Pilots at Canada's Jazz Aviation have approved a deal that will allow the company to become the exclusive operator of Air Canada Express flights.
The approval from the pilots, represented by union Air Line Pilots Association, International (ALPA), is the last piece of an agreement under which Air Canada will consolidate all its region-aircraft operations under one regional partner – Jazz.
Air Canada said last week it intends to transfer the operation of Sky Regional Airlines' 25 Embraer 175s to Jazz. That leaves Sky Regional without any aircraft, and the company confirmed last week it intends to cease operations on 31 March.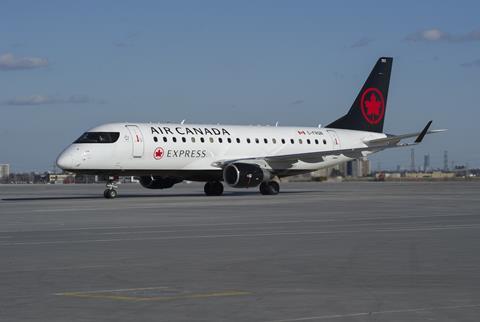 "A long-term goal of Jazz pilots has been to reach consecutive agreements with airline management to facilitate the consolidation of Air Canada Express flying at Jazz," says Claude Braglia, chairman of the Jazz chapter of ALPA, on 15 March. "Jazz pilots are proud to become the sole operator of Air Canada Express, and we are prepared to support Air Canada's recovery through the pandemic and into the future."
The agreement calls for Sky Regional pilots to be offered jobs at Jazz.
"Sky Regional pilots are happy to become part of Jazz pilots' 90-year history; however, we will miss our Sky Regional colleagues from other employee groups who are unable to join us," says Cam Hill, chairman of the Sky Regional chapter of ALPA.
"By joining Jazz, Sky Regional pilots will have the opportunity to continue their careers while working under Jazz's mature collective agreement that provides pilots with significant job security through 2035," he adds.
The change will enable Air Canada to save up to C$400 million ($320 million) over the course of 15 years – C$43 million annually until 2026 and C$18 million annually thereafter, it has said.
Jazz parent Chorus Aviation says that with the acquisition of the jets it will phase out 20 De Havilland Canada Dash 8-300s