Jeju Air may have scrapped plans to acquire a majority stake in Eastar Jet, but it could still take a further W18 billion ($15 million) hit to its bottom line.
"The [stock sale] contract was cancelled after the settlement date [lapsed], but the [advance payment of W11.95 billion was made to] the seller (Eastar Holdings and two others) and [external auditors are currently reviewing] the proper accounting of [a W10 billion] loan [extended] to Eastar Jet," Jeju said in a 5 August stock-exchange disclosure of its unaudited second-quarter results.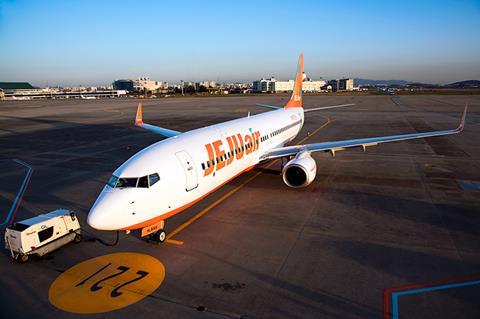 "According to the results of the [external auditor] review, if a provision for bad debts is [made] due to uncertainties in recoverability, net loss is likely to increase by up to W18 billion. However, [this is a non-recurring item], and operating profit is not considered to be affected."
Eastar Holdings is the holding company of Eastar Jet and its shares are held by the daughter and son of Choi Jong-Gu, Eastar Jet's chief executive and founder.
In December, both carriers signed a memorandum of understanding for Jeju to acquire a 51% stake in Eastar Jet. After repeated delays, Jeju announced on 23 July it was scrapping the deal, attributing it to violation of key terms and an overdue transaction closing period, without going into details.
In the latest disclosure, Jeju reported a W181.6 billion net loss for the first half of 2020, compared with a W12.8 billion net profit in the year-ago period.
First-half revenues declined by 62.5% to W264 billion, resulting in a W147 billion operating loss versus a W30.1 billion operating profit in the year-ago period.
Much of the losses came in the second quarter, during which revenues were down to W35.7 billion, 88.5% below the year-ago period and 84.4% less than W228 billion in the first quarter.
For the April to June period, operating losses widened to W83.6 billion, compared with a W63.8 billion loss in the January to March period and around three times the W27.7 billion loss posted in the second quarter of 2019.
Jeju was W82.1 billion in the red for the second quarter, compared with a W99.5 billion net loss in the first quarter and W29.8 billion losses in the year-ago period.