India's Jet Airways has confirmed that it is in "advanced discussions" with Airbus and Boeing over the acquisition of aircraft, but stopped short of stating how much the order would be worth.
Addressing media reports that it was talks with the two airframers for an order worth $12 billion, the carrier — once India's largest privately-owned airline before its collapse in 2019 — says "no fixed value can be determined" as discussions are ongoing.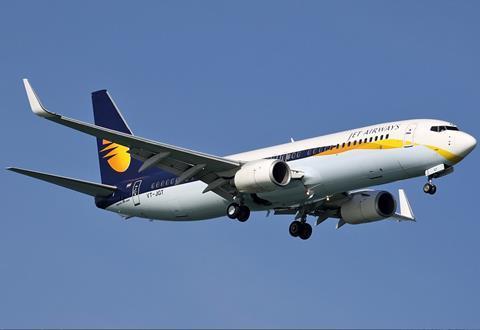 On 2 December, BloombergQuint, citing Bloomberg News, reported Jet Airways was in talks for 100 aircraft, worth around $12 billion, and that it would be investing around $200 million via equity and debt over the next six months.
In a stock exchange filing, Jet Airways says: "Financials mentioned in the news piece are purely based on speculative calculations for over 100 aircraft purchased as per industry standards. Details around negotiations with the OEM or events related to these negotiations have not been shared with the media house as indicated in the media reports."
The carrier, revived from collapse by new owners Murari Lal Jalan and Kalrock Capital, adds that the discussions were "in the ordinary course of business of the company as per its approved [resolution] plan".
"[The] information shared by the Jalan-Kalrock consortium was a reiteration of the information already shared through a press release issued on 13 September 2021. The information shared with media centered around the approved plan and stated that the successful resolution applicant aims to have an operational fleet of over 100 aircraft within the next five to six years of operations," states the carrier.
A debt-laden Jet Airways suspended operations in April 2019 after running out of cash. A resolution plan from the Jalan-Kalrock consortium received court approval in June this year, and the airline has indicated plans to commence operations in the first quarter of 2022.