Jet Airways will reportedly recommence operations in the first quarter of 2022 under new owners the Jalan-Kalrock consortium — more than two years after it shuttered amid financial woes.
Indian news reports, citing consortium lead member and businessman Murari Lal Jalan, say the carrier will resume domestic operations first, before expanding to short-haul destinations in the second-half of the year.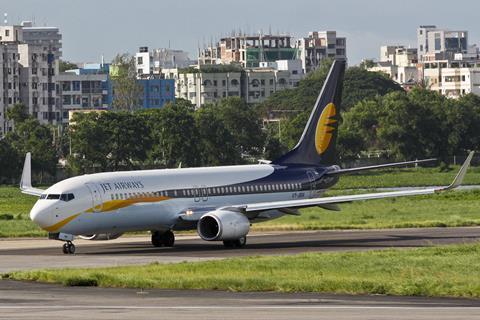 Jalan was also quoted as stating that the airline aims to have more than 50 aircraft three years after commencing operations, which will grow to 100 examples in five years.
Jalan, who is the founder of Dubai-based MJ Developers, did not state which specific aircraft type the airline might operate, except to say that the aircraft are being selected based on "competitive long term leasing solutions".
Prior to its demise in mid-2019, Jet operated a fleet of Boeing 737s, 777s, as well as Airbus A330s, according to Cirium fleets data.
The carrier suspended operations in April 2019 due to financial difficulties and was approved to enter a corporate insolvency resolution process in June 2019.
Airline creditors in October 2020 agreed to an offer from the Jalan-Kalrock consortium, which comprises Jalan, as well as UK-based Kalrock Capital.
In June, it received the final go-ahead from India's National Company Law Tribunal for its resolution plan, paving the way for an imminent restart. In unaudited financial results for the three months to 30 June, the carrier generated a Rs1.29 billion ($17.5 million) pre-tax loss, down from Rs1.53 billion in the same period 2020.