UK leisure carrier Jet2 expects to take a £109 million ($135 million) hit from suspending operations during the coronavirus pandemic, and has cancelled plans to lease 12 aircraft for the summer season.
The airline's parent company, Dart Group, says in a disclosure to the London Stock Exchange that "due to operations being suspended for an indeterminate period of time", it will record an exceptional charge of approximately £109 million. This relates to the "ineffectiveness" of some of its fuel and foreign currency hedges for fiscal year 2021.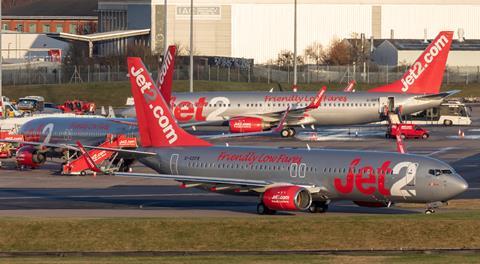 Jet2, which aims to resume a "reduced flying programme" from 17 June, has cancelled "all 12 summer-only, third-party leased aircraft". It does not disclose which third-party operators will be affected. Cirium fleets data shows that Jet2 has 92 aircraft, of which 74 are Boeing 737-800s. The fleet also includes eight 737 Classics, nine 757s and a single Airbus A321. All of the aircraft are listed as being in storage.
Roughly 80% of the airline's employees have been temporarily furloughed under the UK government's coronavirus job-retention scheme. Jet2 has also asked all employees, including directors, to take a 30% pay cut for the six-month period between 1 April and 30 September. Performance-related bonuses for the financial year ended 31 March 2020 will not be paid, and the board "deems it inappropriate to recommend a final dividend" for the year while making use of the government scheme.
Dart Group says it expects to report a pre-tax profit of £265-270 million for the 12-month period ended 31 March, representing a 49% year-on-year increase. It says that, "despite the considerable uncertainty", customers are still making bookings for late summer and winter 2020/21. The airline group is seeing "encouraging numbers choosing to rebook rather than cancel", and summer 2021 bookings look "very promising".