Jet2's parent company has qualified for a £300 million ($366 million) loan from the UK government's Covid Corporate Financing Facility (CCFF).
Dart Group said in a 14 May disclosure to the London Stock Exchange that it had been confirmed as an eligible issuer for the Bank of England facility, and had "put in place a £300 million commercial paper programme to facilitate issuance under it".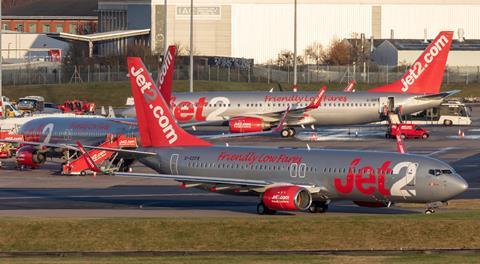 The funds will provide "standby liquidity", should it be required, says Dart.
To be eligible for a loan under the CCFF scheme, companies must prove that they make a "material contribution" to the UK economy and they must have had an investment-grade rating as of 1 March 2020.
EasyJet has already announced plans to borrow £600 million from the facility, while British Airways' parent IAG disclosed on 7 May that it had also accessed financing from the scheme.
Dart chief executive Philip Meeson says that the CCFF provision, together with a fully-drawn £100 million revolving credit facility, will "provide the group with headroom to deal with the present disruption and associated working-capital requirements".
He adds that he is "encouraged by the volume" of customer bookings for Jet2's summer 2021 season, and is "confident" of a "thriving future" for the leisure carrier "once normality returns".