UK budget carrier Jet2 will restart operations on 1 July, having previously said it would begin flying again on 17 June.
"In view of the ongoing travel restrictions caused by the Covid-19 pandemic, we have taken the decision to recommence our flight and holiday programme on 1 July," says the carrier.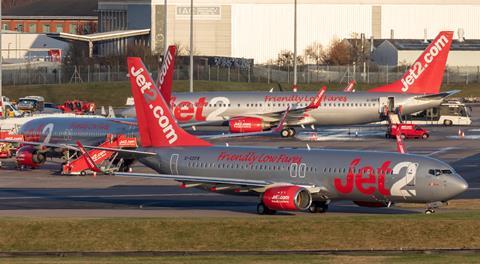 It adds that when it does resume operations, "you can be assured that we will be implementing measures, in consultation with the relevant authorities, to ensure the safety and well-being of everybody on board. We will announce further details on this in due course."
Dart Group, Jet2's owner, announced on 21 May that it had raised £172 million ($210 million) in fresh capital as it looks to shore up its liquidity position.
"The board believes that the proceeds of the placing, together with the recently confirmed Bank of England £300 million Covid Corporate Financing Facility (currently undrawn) and the group's fully drawn revolving credit facility of £100 million, will provide the group with additional headroom to deal with this most challenging of trading environments," said Dart.
Jet2 has cancelled summer leases on 12 aircraft and furloughed roughly 80% of its employees under the UK's job-retention scheme.