JetBlue Airways chief executive Robin Hayes has received a two-year extension on his employment contract, the airline disclosed in a 9 December filing with the US Securities and Exchange Commission (SEC).
The amendment does not change the terms of Hayes' employment agreement with New York-based discounter JetBlue, which now extends through 1 September 2025. The airline's board of directions approved the extension on 8 December, at the recommendation of its compensation committee, according to the filing.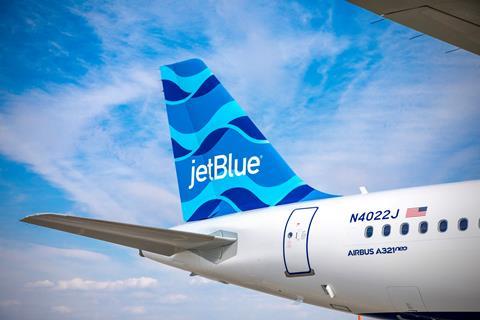 Hayes was named JetBlue's CEO in February 2015, and first joined the company as executive vice-president in 2008 after a 19-year career with British Airways.
Also on 9 December, JetBlue expanded its operating partnership with American Airlines with 11 new routes from Boston and New York as a pending decision in a federal antitrust trial challenging their so-called Northeast Alliance (NEA) looms.
JetBlue is tentatively set to acquire rival discount airline Spirit Airlines in a $3.8 billion takeover bid that is pending federal regulatory approval.
The low-cost carrier posted a profit of $57 million and revenue of $2.6 billion in third quarter 2022, up 30% from $2 billion in the same period of 2021, the airline reported on 25 October.