JetBlue Airways will cut capacity growth as it looks to "create resiliency" in its operations ahead of what promises to be a busy summer travel season.
The New-York-based company on 26 April posted a $255 million loss for the first quarter of 2022, slightly higher than during the second quarter in 2021. With demand returning to pre-pandemic levels, JetBlue says on its quarterly earnings call that it hopes to return to profitability in the second half of the year.
Revenue during Q1 2022 rose to $1.74 billion, from $733 million in the same three months a year ago. That's still down 7% from 2019, however.
"Our first quarter results were characterized by a very strong demand acceleration, with revenue coming in more than six points ahead of our initial view in January," the company's chief executive, Robin Hayes, says. "We delivered positive year-over-three revenue growth in the month of March as we exited the quarter with tremendous revenue momentum driven by very strong underlying travel demand across all of our core segments."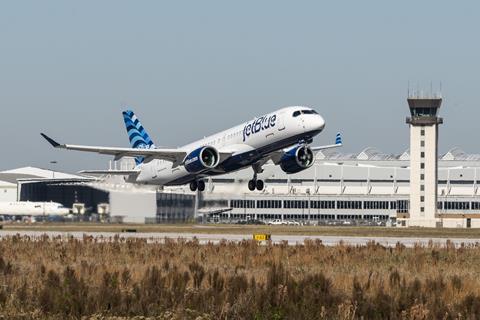 But the rapid return of passengers following the coronavirus pandemic-driven slowdown has put a different problem in stark relief for the airline – staffing shortages. Coupled with recent inclement weather and air-traffic control problems in Florida – which is touched by about 40% of JetBlue's flights – the carrier experienced an unusual number of delays and a decline in overall completion rate in April.
It's therefore cutting its capacity growth plans about 10% for the second quarter to ensure that cancellations will be at a minimum.
JetBlue had originally planned to grow capacity this year by 11 to 15% compared to 2019, the company says.
"Now, with its reduced schedule, JetBlue's capacity will grow zero to five percent compared to 2019. Most importantly, JetBlue is reducing its summer schedule by more than 10% from its original plan, and scheduled aircraft utilisation will be down 10 to 15% compared to 2019," the airline states.
"To help restore our operational reliability, we are reducing our capacity growth further as we plan more conservatively for the summer and make investments to de-risk the operation," Hayes adds. "We fully accept that we take a step back in the second quarter, because there is no catalyst for driving improved revenue than a stable operation."
"We can't control the weather but we can control everything else," Hayes says.
The airline is attempting to "create more resiliency in the operation, and set us up for a better May, and an even better June and strong summer peak", chief commercial officer Joanna Geraghty says.
"Despite the impact to [the] second-quarter outlook, underlying business momentum is very strong," the company adds.
In the second quarter, capacity will rise just 0-3% versus pre-pandemic 2019 levels.
The pilot shortage is hitting the carrier especially hard, executives say, and that's a wider problem that won't go away in the near term. "Elevated pilot attrition, training pressures, and challenges from cumulative impact of…irregular operations" have had a detrimental effect on the airline's flight deck professionals.
"The access to pilots becomes the governing factor for growth in the industry over the next few years," Hayes says.
Geraghty adds: "We have to plan for a world where we have elevated pilot attrition…where pilots are going to be more challenging from a hiring perspective."
The airline has also accelerated 30 Airbus A220 options it disclosed in February, and expects delivery of those aircraft in 2022-2026, says chief financial officer Ursula Hurley.
These jets will ultimately replace the carrier's owned Embraer 190s, and the airline plans to fully exit the E190 fleet by the end of 2026 "providing us with a solid platform for margin expansion and earnings growth", she adds.
SPIRIT TAKEOVER PLANS
Executives declined to speak at length about their surprise offer to buy Spirit Airlines earlier this month, trumping Frontier Airlines' February bid for the Florida-based ultra-low-cost carrier.
"We will respect the confidential nature of the process and have nothing further to add on this topic," Hayes says. "Our team is working very diligently and hard to move things along as fast as possible."
Chief financial officer Hurley adds: "The [airline] still plans for the offer for Spirit to be a full cash offer. We still have a strong balance sheet and our offer stands as is."