JetBlue Airways has seen "meaningful progress" toward a sustainable rebound in recent weeks, with passengers returning to air travel in greater numbers and planning trips further into the future.
The New York-based low-cost carrier on 27 April reported a first-quarter loss, but executives say demand has hit levels not seen since the beginning of the global health crisis more than one year ago.
The company lost $247 million in the first three months of 2021, slightly better than its $268 million loss during the same period one year ago, just as the coronavirus crisis was making itself felt in the industry. In the first quarter of 2019, JetBlue earned a $42 million profit.
The airline's first-quarter 2021 revenue fell 54% to $733 million from the same three months in 2020. Revenue slipped 61% from the first quarter of 2019.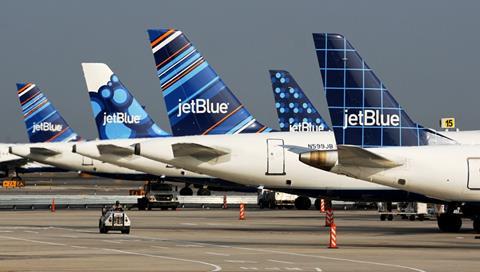 "We have seen meaningful progress in the demand recovery, and have started to gain momentum from the groundwork we have laid to emerge from the crisis as a stronger JetBlue," says chief executive Robin Hayes. "We have seen positive cash from operations for March, and this milestone is our first step towards… returning to profitability."
JetBlue anticipates continued improvement in the second quarter.
"We are optimistic about the upcoming summer months," says JetBlue chief operating officer Joanna Geraghty.
Still, executives anticipate JetBlue's second-quarter capacity will be 15% less than its second-quarter 2019 capacity, and that second-quarter revenue will be 30-35% less. But such gains would be "the largest sequential improvement in our revenue since the start of the pandemic", Geraghty says.
Critically, JetBlue's booking curve – which represents the amount of time between when customers book trips and when they actually fly – is "largely back to pre-pandemic lengths".
That suggests consumers are increasingly confident that more destinations will relax travel restrictions and re-open for visitors. JetBlue now allows bookings up to 331 days before flights, longer than the seven to 10 months it offered previously.
Still, predicting demand beyond summer remains "tricky", executives say.
"We do believe there will be pent-up leisure demand, but we are cautiously optimistic," Geraghty says. "As vaccines take hold and case counts come down, the fall has the potential to be good."
She predicts "2022 will be a strong recovery year".
FLEET CHANGES
Just 10 of JetBlue's 270 aircraft will remain in storage this summer, executives say.
The carrier received three Airbus A321neos during the first quarter and anticipates acquiring two A220s, two A321neos and two A321LRs in the second quarter. JetBlue intends to add 15 aircraft to its fleet this year, and 12 in 2022.
On 26 April, JetBlue brought its first A220-300 into revenue service with a flight from Boston to Tampa. The airline has 70 of the type on order from the Toulouse-based manufacturer.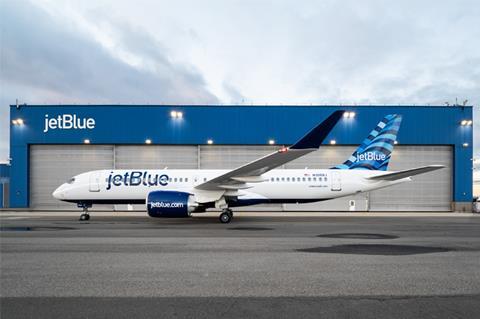 LONDON PLANS
For two years, JetBlue has planned to fly from the US East Coast – either New York or Boston, or both – to London using A321LRs.
That plan was delayed by the pandemic, but JetBlue now appears close to announcing inaugural European routes.
Hayes shares no specifics but says JetBlue will release more details "soon" and that first flights should take place "later this summer".
Last week, UK regulators cleared JetBlue to launch the flights to London from both New York and Boston.
JetBlue has not confirmed which London airport it will serve, but in March UK slot coordinator Airport Coordination showed JetBlue had been assigned 270 slots at London Heathrow between August and October.
JetBlue's website is not yet accepting bookings on London flights.
While launching European routes now might seem risky, JetBlue sees opportunity in a pandemic-induced industry reshuffling, which has included the demise of Norwegian's long-haul widebody service.
"The transatlantic market has seen quite a bit of change," says Scott Laurence, the airline's head of revenue and planning. "We have a strong fundamental offering here and we feel pretty confident in our ability to disrupt the premium cabin [offering]."
"If you look at forecast and potential, it continues to be very strong and similar to what we initially expected," he adds. "We look to move forward confidently as we move toward transatlantic service."