Seeking a stronger foothold in South Florida, JetBlue Airways plans to ramp up to more than 250 daily departures from Fort Lauderdale-Hollywood International airport by 2027, including flights to Europe.
Under the plan, the low-cost carrier would offer flights to 30 markets currently not served from Fort Lauderdale by either JetBlue or Spirit Airlines - which it is in the process of acquiring - and increase flight frequencies to 30 more destinations, JetBlue said on 15 February.
The New York-based discount airline is currently averaging 74 daily departures from Fort Lauderdale, according to Cirium networks data.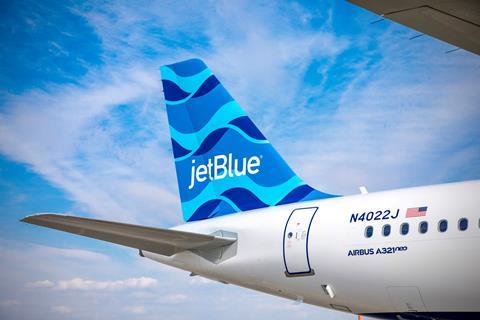 "With a more competitive position in South Florida, JetBlue would plan to launch service between Fort Lauderdale and Europe", JetBlue says. It would also seek to add routes to Antigua, Belize, Costa Rica and Liberia. Of the 40 routes JetBlue currently operates from Fort Lauderdale, none are to European cities, Cirium data show.
JetBlue's plan for expansion in South Florida also depends on Broward County's master plan to further develop Fort Lauderdale-Hollywood, the airline says, adding that it has "committed support" for expanding capacity at the airport.
In the shorter term, JetBlue plans to launch new service from Fort Lauderdale to Tallahassee International airport in January 2024.
As with most of JetBlue's recent strategic moves, however, the carrier's plan to solidify its position in South Florida hinges on its pending acquisition of Spirit, a low-cost competitor based in Miramar, Florida.
"As a customer-centric alternative to the high-fare legacy airline that dominates South Florida, we have achieved rapid growth in Fort Lauderdale and are ready to turbocharge further expansion once we combine with Spirit," says Robin Hayes, JetBlue's chief executive. "We are uniquely positioned to challenge the big four airlines and boost competition in Florida and across the country."
The airline Hayes refers to is American Airlines, which has a strong presence in Miami, just 60km (37mi) south of Fort Lauderdale.
The potential $3.8 billion deal calls for JetBlue to close on its deal to buy Spirit by the first half of 2024, but it still needs approval from federal antitrust regulators. The JetBlue-Spirit combination would represent the USA's fifth-largest airline behind American, Delta Air Lines, Southwest Airlines and United Airlines, Hayes said in July.
During Spirit's fourth-quarter earnings call on 7 February, chief executive Ted Christie said that a decision on the JetBlue tie-up was expected from the US Department of Justice within 30 days.
JetBlue began transatlantic service in August 2021 with flights to London from New York's John F Kennedy International airport and Boston Logan International airport using its new Airbus A321LRs, which have 4,000nm (7,408km) of range.
On 14 February, JetBlue filed a complaint with the US Department of Transportation (DOT) against the government of the Netherlands for repeated rejection of slot requests at Amsterdam's Schiphol airport, alleging "blatant" discrimination on the part of slot coordinator Airport Coordination Netherlands (ACNL).