Shareholders of Spirit Airlines approved on 19 October JetBlue Airways' $3.8 billion bid to purchase the low-cost carrier, potentially signalling a dramatic shift in the North American discount airline market.
Based on preliminary results from a special stockholder meeting, holders of more than 50% of the outstanding shares of Spirit stock voted in favour of the deal, Spirit says. The finalized results will be tabulated by an independent inspector of elections and filed on Form 8-K with the US Securities and Exchange Commission (SEC).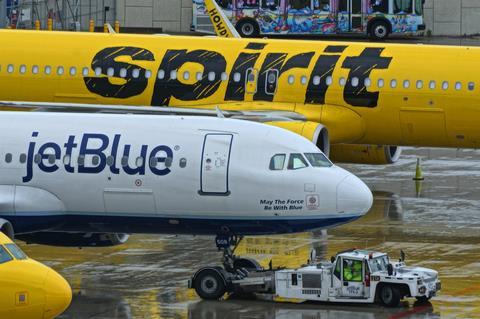 "This is an important step forward on our path to closing a combination that will create the most compelling national low-fare challenger to the dominant US carriers," says Ted Christie, Spirit's president and CEO. "We look forward to continuing our ongoing discussions with regulators as we work toward completing the transaction."
Approved by Spirit's board of directors on 28 July, the deal calls for New York-based JetBlue to buy Spirit – based in Miramar, Florida – by the first half of 2024.
The acquisition still needs approval from federal antitrust regulators, as it would eliminate a low-cost carrier from the market and position the JetBlue-Spirit combination as the USA's fifth-largest airline behind American Airlines, Delta Air Lines, Southwest Airlines and United Airlines, JetBlue chief executive Robin Hayes said in July.
That is not a given outcome. The deal has been under scrutiny during trial proceedings in Boston, where American Airlines and JetBlue have defended themselves against a US Department of Justice lawsuit seeking to unwind their "Northeast Alliance". DOJ lawyers argue such a tie-up would violate federal antitrust law, especially in light of JetBlue's proposed acquisition of Spirit.
JetBlue is expected to pay for the acquisition partly through debt financing; the final price tag will vary based on whether JetBlue pays $33.50 per share for Spirit or $34.15 per share, depending on the timing of the deal's close.
Spirit scheduled and delayed four previous shareholder meetings to vote on a deal with Denver-based ultra-low-cost peer Frontier Airlines. Spirit pulled the plug on the Frontier deal on 27 July, after it was clear it did not have enough votes from shareholders.