Kenya Airways and South African Airways have signed a "strategic partnership framework" as they work towards creating a pan-African airline group.
The carriers describe the 23 November agreement as "a key milestone" on that journey, which they aim to complete "by 2023".
The partnership framework follows the "memorandum of cooperation" signed in late September, under which the carriers agreed to "foster the exchange of knowledge, expertise, innovation, digital technologies, and best practice between the two airlines".
Under the new framework, the carriers say they will "work together to increase passenger traffic, cargo opportunities, and general trade by taking advantage of strengths in South Africa, Kenya, and Africa", without detailing the precise nature of the collaboration.
The carriers note that they expect the partnership to "improve the financial viability of the two airlines", as they "remain committed to their financial turnaround strategies".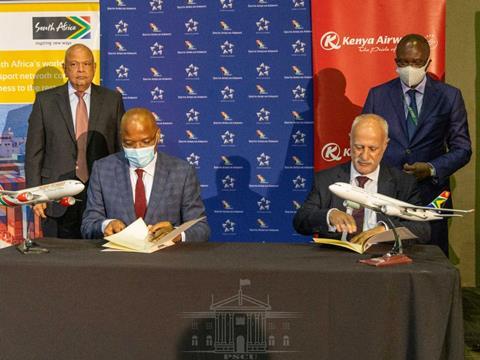 Both SkyTeam carrier Kenya Airways and Star Alliance operator SAA have faced financial struggles in recent years, compounded by the Covid crisis.
Speaking in mid-October, Kenya Airways Group chief executive Allan Kilavuka said that if the African aviation industry continued in its "fragmented" state, the sector "will be in a lot of trouble".
The key, he suggested, was to "collaborate and make the airlines more scalable, so that we can reduce the costs that we are incurring".