Kenya Airways pre-tax losses deepened to KSh13 billion ($120 million) for the year ending December 2019 despite increasing passenger levels and revenues.
The SkyTeam carrier lifted revenues 12% to KSh128.3 billion. That was in part due to a 7% rise in passenger numbers to 5.1 million, during a year in which the carrier added flights Geneva, Rome and Malindi.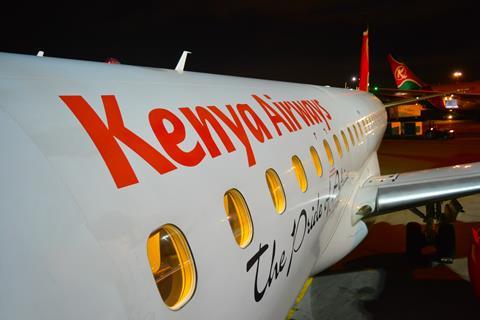 The airline also brought two Boeing 787-8s, which had been sub-leased to Oman Air, back into service. This contributed to a 15% increase in its ASK capacity.
The carrier though says the return to service of the two Dreamliners, together with costs associated with the new routes and frequencies, contributed to an increase costs of 12%. But a move to IFRS 16 accounting standards increased its overall financing costs, which jumped 76%.
"Despite the tough market environment, Kenya Airways is in the process of recalibrating its business to create a model that is agile, responsive, and even more relevant to the market. We are making positive strides and we will not lose focus on our picture of success which we are working towards," the carrier's chairman Michael Joseph says.
The deeper loss comes even before the impact of the coronavirus crisis.
The airline's new chief executive Allan Kilavuka, who took the helm in February, says: "Going forward, it will not be business as usual as the aviation industry will see significant changes as a result of the Covid-19 pandemic.
"We therefore must stay ahead of the curve to ensure we are ready to create many opportunities for growth and leverage all the others that come our way."