A new Indonesian airline with close links to Lion Group founder Rusdi Kirana has received its AOC.
Start-up carrier Super Air Jet (SAJ) was awarded an AOC on 25 June, according to Indonesia's Directorate General of Civil Aviation (DGCA).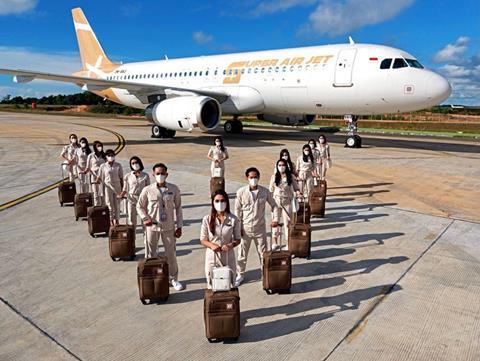 SAJ is cleared to start operations with three Airbus A320 aircraft.
"We have carried out the certification process for the issuance of the [AOC] based on an application letter from the SAJ since September 30, 2020, the certification process refers to ICAO provisions and applicable aviation regulations in Indonesia which is carried out through five stages or phases," says DGCA director-general Novie Riyanto.
The stages are pre-application, formal application, document compliance, demonstration & inspection, and certification.
The DGCA adds that the new carrier will conduct maintenance operations at PT Batam Technic, the Lion Group's MRO facility.
Super Air Jet's ownership structure is nebulous, but it appears to have lose links to Rusdi Kirana's troubled Lion Group, which comprises carriers such as Lion Air, Malaysia's Malindo, and Thai Lion.
In May, Lion's communications team responded to a FlightGlobal query about the new carrier. A spokesman sent a statement about the new airline, making no mention of Lion itself. Reuters has reported that the new carrier is to be run by Ari Azhari, formerly a general manager in Lion Group.
Kirana himself has yet to publicly comment on the new carrier, having kept an extremely low profile of since early 2020, as the airline group grapples with the fallout of the coronavirus pandemic, including tough discussions with lessors.
Some lessors regard Super Air Jet with scepticism, seeing it as a way for Kirana to gain leverage over them.
Cirium fleets data shows that Super Air Jet has three A320s managed by three separate lessors: CDB Aviation, Orix Aviation, and ICBC Leasing.
As for Lion, the carrier has 90 aircraft in service and 53 in storage. It also has firm orders for 426 aircraft, mainly A320neo family jets and Boeing 737 Maxes. The 737 Max remains grounded in Indonesia.