KLM will launch its premium-economy cabin on routes to North America later this year, the SkyTeam carrier confirmed on 27 May, as it starts to roll out the new product across its widebody fleet.
The launch will be the realisation of an ambition announced by the Dutch flag carrier in February 2020, on the eve of the Covid-19 pandemic, to bring KLM's product slate into line with that of transatlantic partners Air France, Delta Air Lines and Virgin Atlantic.
Outlining its plans for the premium-economy product in more detail, KLM does not specify which aircraft will receive the cabin first, but does say customers will be able to book the class for "a growing list of destinations" from late July this year, spearheaded by North American services.
The product itself – dubbed 'Premium Comfort' – is described as an "entirely new in-flight class" for the airline, which will complement its business- and economy-class offerings. Compared with the latter class, customers will have larger seats, more legroom and a larger screen, alongside a "distinctive" catering product and other baggage and check-in service upgrades.
The seats have been sourced from Collins Aerospace, which is supplying an "upgraded" MiQ seat.
"We have great expectations for this new Premium Comfort class, based on extensive market research," says Boet Kreiken, executive vice president of KLM Customer Experience. "The new class will meet the wishes of business passengers as well as leisure travellers, strengthening KLM's standing as a global network carrier offering an appealing and varied range."
Depending on aircraft type, the number of Premium Comfort seats will vary between 21 and 28, KLM says, with the total seats falling between 19 and 32 as a consequence of the reconfigurations.
The largest premium-economy cabin will be in KLM's Boeing 787-10 aircraft, with 28 seats, while 787-9s will receive 21. KLM's 777-200s and 777-300s will each receive 24 Premium Comfort seats.
The airline will continue to offer its Economy Comfort product, which features economy-class seats with more leg room and recline. Indeed, KLM's cabin reconfiguration document suggests more of those seat types will be added to 787-10s, 777-200s and 777-300s alongside the introduction of the new premium-economy cabin.
The reconfiguration of cabins will be carried out by KLM Engineering & Maintenance at Amsterdam Schiphol airport, KLM notes.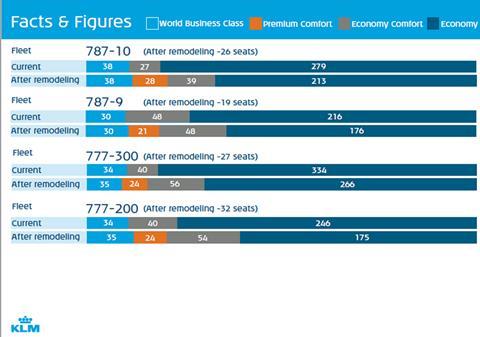 More carriers have been adding premium-economy cabins to their long-haul aircraft in recent years – recently including Emirates – as they seek to serve leisure and business customers who are seeking an upgrade on economy-class service without the large fare increases that often accompany business-class options.