Korean Air is looking to raise additional cash, seeking a government subsidy from the state-run Korea Development Bank (KDB) and separately, from the sale of land in downtown Seoul.
"We cannot confirm the exact figures as we are still in discussion with the relevant parties," the airline tells Cirium.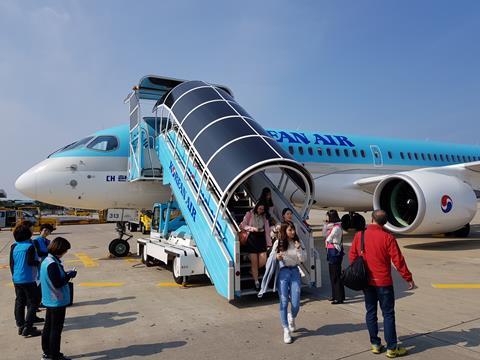 The company says it has received a total of W1.2 trillion ($1 billion) in government aid this year, in the form of asset-backed securities, perpetual bonds and an asset-backed loan from KDB and the Export-Import Bank of Korea (Exim Bank).
Korean Air said in May that this comprised W700 billion in asset-backed securities, backed by air cargo operations; W300 billion worth of perpetual bonds embedded with stock conversion rights; and a W200 billion asset-backed loan.
In the following months, the flag carrier raised over W1 trillion from a new share issue in July, and in August, inked a W991 billion deal with local private equity fund Hahn & Company for its in-flight catering and duty-free business units.
Local news agency Yonhap reported on 18 October that the airline is seeking W1 trillion under South Korea's Key Industry Stabilization Fund and hopes to sell its land to the Seoul city government for at least W500 billion.