Korean Air is to recruit over 100 cabin crew, as it restarts hiring after a freeze of nearly three years from the coronavirus pandemic.
A statement from the airline on 14 October says it is "preemptively" beginning to recruit more crew members, despite passenger traffic being "still below" pre-pandemic levels.
Korean Air adds that the cabin crew recruitment is to "prepare for an increase in traffic". It is currently flying at around 50% pre-pandemic levels.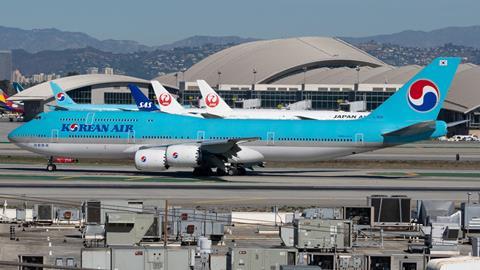 While the airline did not disclose how many crew members it has now, it states that has "enough manpower" by increasing its employee numbers to over 80%, while operating at current capacity levels. It also notes that while it did not retrench any crew members, a number of them have decided to leave the airline.
Korean Air is the latest airline in the region to restart hiring, as border restriction's lift and travel recovers. In early 2022, Singapore Airlines began recruiting for more cabin crew, and is restarting its cadet pilot training programme.
Hong Kong's Cathay Pacific, meanwhile, is also looking to recruit 700 pilots by 2023, with nearly half being direct-entry hires.
Newly-privatised Air India is also hiring more cabin crew, with the airline rolling out a recruitment exercise in July.