Korean Air tentatively believes that its acquisition of rival Asiana Airlines will close by the end of June, following the submission of its post-merger integration plan.
The airline confirms that the post-merger integration plan was submitted to Korea Development Bank, Asiana's biggest creditor, on 17 March.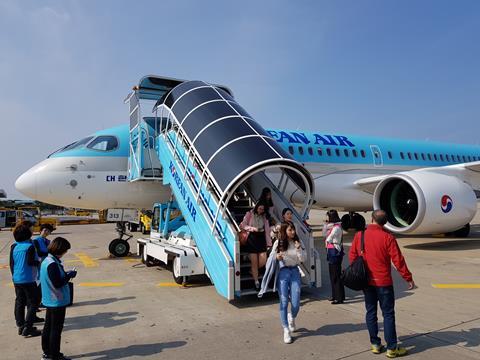 To finance the Asiana acquisition, Korean secured W3.3 billion ($2.9 billion) through the issue of new shares, which it says indicates a "positive market response" to the planned acquisition.
"We assume the deal will be finalised by the end of June this year, but the exact timing will be confirmed after completion of regulators' approval on the acquisition from relevant countries," says the carrier.
The airline submitted applications to all overseas regulators in January. Turkey has already approved the merger, and the airline does not foresee other regulators raising any issues.
In November 2020, Korean and parent Hanjin KAL announced a W1.8 trillion takeover bid for Asiana, saying that the move was necessary to "stabilise the Korean aviation industry," which has been hard hit by the coronavirus pandemic.
In December 2020, Korean outlined its plans, with full-service Asiana to be merged with Korean, and the Korean Air brand retained.
In addition, low cost units Jin Air, Air Busan, and Air Seoul will be merged. Jin Air is a unit of Korean, while Air Busan and Air Seoul are units of Asiana.
Though Korean's revenues fell 40% to W.7.4 trillion in 2020 owing to the collapse in passenger demand, it managed to earn an operating profit of W238 billion during the year owing to a strong performance of its cargo business.
Asiana, for its part, narrowed its full-year operation loss to W70.3 billion in 2020, compared with W487 billion in 2019. As with Korean, its revenues were down for the year, but its cargo unit performed strongly.