LATAM Airlines Group posted a third-quarter loss but says increased vaccination rates, fewer travel restrictions and pent-up demand will propel capacity to 65% of pre-pandemic levels by year-end.
On 9 November, the Santiago, Chile-based airline reported a net loss of $692 million during the quarter ending 30 September. The airline attributed the loss to aircraft maintenance expenses and one-off costs.
The result marks an improvement from LATAM's $770 million loss in the third quarter of 2020 but is far from the $86 million profit it netted in the third quarter of 2019.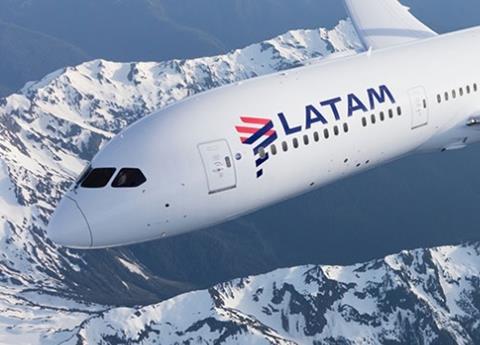 "After a challenging second quarter, having operated at an annual low point of 24.9% of 2019 capacity (measured in available seat kilometres) in April, the progressive ease of travel and mobility restrictions, accompanied by the vaccination roll-out implemented in the region, have helped us to observe an upward trend in operations along the quarter," the carrier says.
"Operational recovery still lags well behind 2019 levels, with international traffic recovering slower than initially expected and significant travel restrictions in the region still in place during most of the quarter, namely related to Chile, Brazil and Argentina."
The company also reports "relevant macroeconomic challenges", including higher fuel prices, depreciation of foreign currencies and inflation.
Revenue in the third quarter of 2021 came in at $1.3 billion, compared to $2.7 billion in third quarter of 2019. Passenger revenue was 61% less than two years ago, offset by cargo revenue, which rose 44%.
Compared with the second quarter of 2021, revenue rose 48%, which is "a clear reflection of the recovery in passenger operations during the quarter", the company says.
As the third quarter ended, more countries in the region began lifting travel restrictions, allowing LATAM to re-establish routes and giving it positive momentum heading into the fourth quarter.
"LATAM group expects to continue the ramp up of the groups' operations in all markets through the end of the year, reaching over 65% of consolidated capacity (measured in ASKs) versus 2019." LATAM says.
The company had 302 aircraft at the end of the third quarter, down from 335 two years earlier. The changes reflect "42 aircraft rejections since initiating Chapter 11 proceedings [and] 15 aircraft incorporations", and exclude 11 Boeing 767s "classified as available for sale", LATAM says.
"Agreements regarding its fleet commitments have been reached with Boeing for two 787 Dreamliner aircraft and Airbus for a total of 70 A320neo family aircraft…reaffirming LATAM's commitment to a modern fleet and its long-term sustainability strategy," LATAM says. Delivery of those jets is expected through 2028.
LATAM, like Latin American peers Avianca and Aeromexico, voluntarily entered Chapter 11 bankruptcy proceedings in mid-2020 after the global coronavirus pandemic decimated demand for air travel.
Earlier this month, a US bankruptcy court granted LATAM's request for more time to present a restructuring plan, setting a new deadline of 26 November.
While Avianca's restructuring plan was approved by the court last week, Aeromexico's next court date will be on 17 November.
Last week, Azul chief executive John Rodgerson reportedly told a Chilean newspaper his carrier was interested in possibly acquiring the entire LATAM group.
He said the carrier's plans were at an early stage and only relevant if LATAM – formed by the merger of Brazilian carrier TAM and Chilean airline LAN – failed to reach an agreement on restructuring as it seeks to exit Chapter 11 protection.