Lebanese carrier Middle East Airlines has pushed back delivery of its four on-order Airbus A330neos until 2026 as it bids to recover from the dual challenges of the pandemic and economic crisis in Lebanon.
Speaking to FlightGlobal during the Arab Air Carriers' Organization AGM in Doha on 11 November, MEA chairman Mohamad El-Hout said the airline is operating at about 55% below pre-crisis levels over the first 10 months of the year and with lower load factors.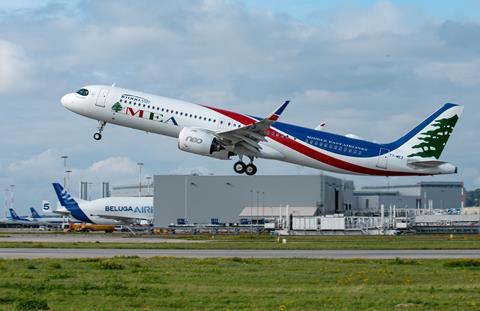 "We have many aircraft we intend to sell," he says, noting the carrier has already sold one A330, intends to sell another of the type and some of its A320s. "So our fleet will be between 18 and 20 aircraft."
Cirium fleets data shows MEA has an active fleet of 19 aircraft comprising nine A321neos, six A320s and four A330s. It also has three A320s and one A330 in storage.
But the airline also has more aircraft due for delivery.
"We are going to receive one A321neo in 2023 and three A321XLRs in 2024 and one XLR in 2025," he says. "This is very important. We were a launch customer for the XLR, and we will use them to do some thin African routes."
The airline had also ordered four Airbus A330-900s, which were originally slated for delivery in 2021 and 2022.
"We have postponed that until 2026, because even our A330 we are not using them [fully], we are using them 20-25%. So it's not wise to take delivery of the A330neos and to park them. So we have agreed with Airbus to postpone them until 2026."
El-Hout says the airline has had to use its own funds to see through the crisis.
"[The pandemic] is hard, especially as it's coupled with economic crisis in Lebanon. This is the difficult part of it," he says.
"We didn't get any support from the government. We are surviving by using the resources we have saved during the good times. We have made a continuous profit in the last 18 years. So in 2020 and 21, we are using some of this reserve in order to bridge the gap between the revenues and the expenditure."
The airline has also raised around $150 million from sale- and lease-back agreements covering some of its Airbus A320s.
El-Hout says a return to profit is dependent on both the development of the Covid-19 pandemic and the economic and political situation in Lebanon.
"I don't expect we will reach break-even before the year 2024," he says. "If things are moving in the right direction it may be before then. But we have enough resources in order to survive this."