Garuda's lessors are concerned about the lack of clarity surrounding the quantum and timing of an expected government bailout seen as key to the survival of Indonesia's national carrier, even though it pulled off a three-year extension of its $500 million sukuk last month.
Lessors tell Cirium they have been concerned about Garuda's financial health for years, with one saying the airline was "living hand to mouth" in the run-up to the Covid-19 pandemic.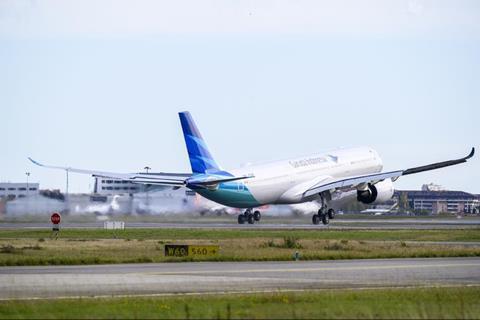 Another lessor expressed his relief that his company had traded out more than half a dozen aircraft leased to Garuda before the virus hit.
Similarly, a Singapore-based banker says that his bank has studied some Garuda transactions over the years, but decided not to participate in any of them. He says: "It turns out to be quite fortunate, I would say."
All but 12 of Garuda's 142-strong fleet is leased, from around 30 lessors, Cirium fleets data show.
In May, Indonesia's deputy state-owned enterprises minister Kartika Wirjoatmodjo said that the government's rescue plan includes a proposal to restructure the airline's $500 million sukuk and arrange new bridge loans of as much as $500 million to meet working capital requirements for three to six months, according to a Bloomberg report then.
Now that the sukuk's maturity has been extended, it is not clear whether Garuda will still get the $500 million allocated by the government to restructure it, though that seems unlikely given that it is not of immediate concern to Garuda.
Three sources who have business dealings with Garuda said that extending the sukuk maturity date from 3 June 2020 to 3 June 2023 was vital for the carrier, but expressed doubts that the airline could survive without a government bailout. One source described the extension as having been "the main pressure point" on the carrier.
"The concern many people had was if the sukuk had not been renewed or extended," says a Singapore-based lawyer, who added that sukuk holders were faced with losing money if it had not been extended and Garuda was unable to pay it off. This may explain why sukuk holders so readily agreed to the extension – over 90% voted in favour – though they may have also been tempted by a financial sweetener Garuda offered for those who gave their approval early enough.
"The way in which a sukuk works is those guys have money outstanding, almost like a bondholder, and if they are not able to extend the facility, then in an insolvency situation they could stand to lose a lot," he says.
The extension has allowed Garuda to avert a $500 million cash outflow, but on its own, this is unlikely to be enough to resolve the carrier's financial woes, as in the Covid-19 environment, many airlines are burning through hundreds of thousands of dollars each day.
"I think everybody is hoping that the Indonesian government is going to come up with the cash," says a second Singapore-based lawyer. "That's the horror these days: that $500 million for any medium-sized airline disappears down the hole very quickly."
IN ARREARS
Garuda Indonesia has not been paying lessors since March, as well as many other suppliers, sources tell Cirium.
That month, the airline sent an email to lessors saying that it was flying "nearly empty planes" and asked for a 12-month deferral of rental payments, as well as possible assistance in converting US dollar-denominated leases into Euro or Japanese yen.
"That was the ask of the airline," says a source who, at the time, worked for a lessor with exposure to Garuda. "I don't think anyone would really roll out and accept that. I think it was the opening salvo."
In the email, seen by Cirium, the airline was frank about its financial distress, saying that lessors would be aware it has "suffered from disadvantageous aircraft cost, purchases and lease arrangements".
"Security deposits, monthly maintenance reserves as well as insurance premia are way beyond general industry terms," it adds. "These costs has [affected] our overall costs, resulting [in] financial inefficiency."
The airline attached in its email a chart attributed to Bloomberg to show that its rental cost to revenue ratio is the highest in the industry.
"We regret the fact that these decisions were made and that we have ourselves to blame for what has happened in the past. We certainly question how this has come about."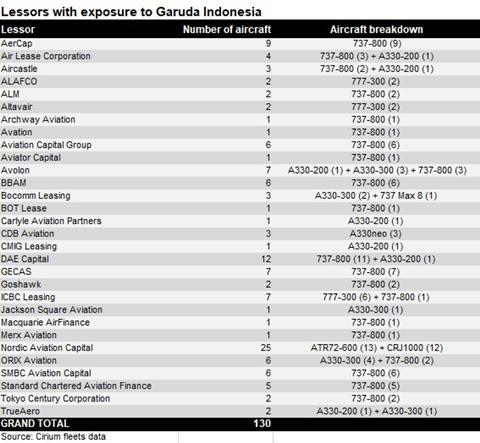 It went on to say that it was left with no other option than to review the terms and conditions of the agreements with its 26 lessors.
"We need your understanding and assistance to restructure and ensure the financial sustainability of Garuda Indonesia and its subsidiaries including its employees that total more than 25,000. We have too often [seen] airlines, both flag carriers and privately owned companies, going out of business caused by inefficient financing, operation and planning."
The consensus among Garuda's lessor creditors seems to be that the government needs to step in to ensure the airline's survival. Unfortunately for lessors, detailed information from the government and Garuda on the potential bailout is not publicly available, though secrecy in airline bailout talks amid Covid-19 is not something exclusive to Indonesia.
According to an 11 July article in Hong Kong newspaper South China Morning Post, Cathay Pacific's bailout deal team went to considerable lengths to keep discussions of the plan from leaking as they worried the news could become "political football" in the city's legislature and delay the capital injection. Keeping their cards close to their chest paid off and resulted in a HK$39 billion ($5 billion) recapitalisation plan, which shareholders green-lighted on 13 July.
Indonesia's flag carrier, then, could eventually receive similar treatment, but naturally lessors would appreciate more clarity on the potential bailout so they can better manage their portfolio risk.
One lessor, who previously managed an aircraft leased to Garuda, thinks the Indonesian government needs to stand behind its flag carrier more firmly.
"I hate to say this, but more airlines will die," he says. "In Garuda's case, I think they need stronger support from their government."
Analysis by Michael Allen of Cirium