Most of Malaysia Airlines' lessors have rejected a restructuring plan it proposed, according to a media report.
Lessors claiming to represent 70% of the aircraft and engines leased to the airline group have called the plan "inappropriate and fatally flawed" and pledged to challenge it, Reuters reported on 10 October, citing anonymous sources and a letter from law firm Clifford Chance. Some lessors have endorsed the plan.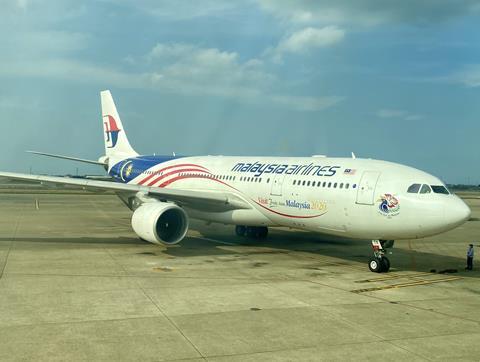 At the start of October, the flag carrier announced that it would embark on an "urgent restructuring exercise", which will include a "drastic" relook at its network and fleet plans, after the coronavirus outbreak upended its business recovery momentum.
Cirium understands that the public announcement followed a private communication to lessors about the plan in September. Furthermore, the airline has opted to pursue a restructuring under Part 26A of the United Kingdom's Companies Act 2006, the same act used by British carrier Virgin Atlantic in its restructuring.
Following the announcement, several lessors expressed discontent with Malaysia Airlines' approach.
"Basically, in very short terms, lessors are very much objected to the UK restructuring," one lessor told Cirium on 9 October.
"Any restructuring in this way would probably result in a bad situation for at least some of the lessors," a second lessor said on 8 October.
According to the Reuters report, Malaysia Airlines' chief executive Izham Ismail said in an interview with local business and financial publication The Edge that the group would have "no choice but to shut down" if lessors decide against backing the restructuring plan.
"There are creditors who have agreed already. There are others still resisting, and another group still 50-50," Izham was quoted as saying.
"I need to get the 50-50 ones [on board] with those who have agreed. I understand quite a sizeable amount of creditors have agreed."
He added that the plan was to restructure the airline's balance sheet over five years, achieving break-even in 2023 on the assumption that demand in the domestic and Southeast Asian markets returns to 2019 levels by the second and third quarters of 2022.
The plan will also require a fresh cash injection from the airline's shareholder, Khazanah Nasional, to help the company over the next 18 months.