Many lessors have reached agreements with Thai Airways International on the future of their aircraft as part of the carrier's restructuring process, lessors with exposure and people close to the restructuring tell Cirium.
While formal binding agreements will not actually come into force until the airline exits bankruptcy protection, most lessors have now signed agreements. Fifteen lessors have exposure to Thai, to the tune of 40 aircraft, according to Cirium fleets data.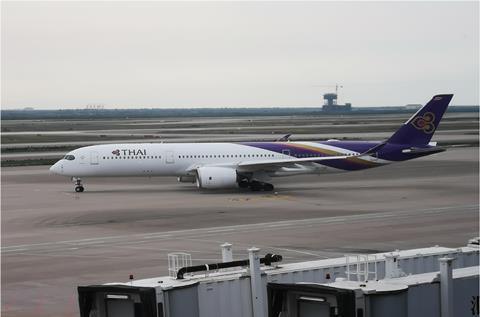 "We are at a stage where we have signed all our agreements. We are well beyond LoIs [letters of intent]," one lessor with exposure says.
He adds that his company's agreement includes a caveat that the lessor, if unsatisfied with Thai's rehabilitation plan, could pull its aircraft out and scrap the deal.
"If we don't like what we see, we can walk away," he says. "We have not done [this in the past] because normally we have worked jointly with the lessee to come up with a plan that we are satisfied with."
A second lessor with exposure says his company has also made agreements with Thai and is now waiting to see the contents of the rehabilitation plan, which is now being written by the airline's plan preparers and has a filing deadline of 2 March. The rehabilitation planners include six people, plus EY Corporate Advisory Services.
"I don't think anyone will make any aggressive movements at this moment… We [ourselves] are just waiting," he says.
In addition, a person acting for some of Thai's lessors says almost all of those lessors have now reached agreement, while the ones that have not "are very close".
In a 21 October virtual meeting with lessors, Thai outlined a broad plan for its future fleet and gave lessors a 4 November deadline to submit their best offers. After receiving responses to that tender, it began bilateral discussions with each lessor.
The Thai flag carrier has not disclosed publicly which aircraft will remain in its fleet, and this is likely to be stated in the draft of its upcoming rehabilitation plan, but lessors and people close to the process expect its Airbus A380s, Boeing 747s and A330s not to be part of the streamlined fleet.
LESSORS FIRST
With the lessors now largely dealt with, Thai's rehabilitation planners still have several weeks to draft a proposal which will then need to be voted on by creditors.
Alan Polivnick, a partner at Watson Farley & Williams who is acting for some of Thai's creditors, says the airline wanted to conclude negotiations with lessors first, as this would give clarity on the future fleet, thereby simplifying negotiations with other creditors and suppliers.
"Thai is dividing creditors into groups, for example with lessors in one group and aviation service providers in another. The airline decided to deal with lessors first, given that clarity on the carrier's future fleet could help it reach agreements with other creditors and suppliers," he tells Cirium.
"Their focus was first on dealing with the lessors, partly because I think the issue is: which aircraft are staying in the fleet? Which ones are going out? What's the model going to be?"
He says, for example, that engine component suppliers to the airline would need to know whether the 777s are staying in fleet, or whether the A350s are staying rather than the 787s.
"To some degree, that's going to determine how you are going to deal with the debts from Thai," he adds. "If the engines are going to continue to be part of the Thai fleet, you are going to be more willing to look at some sort of longer-term solution, but if you know that the engines are simply not going to be flying anymore and there is not going to be any business from Thai, then your focus and your priorities are slightly different."
TAKING A HARD LINE
Lawyers have been assisting Thai's creditors in filing debt-repayment applications as part of the restructuring.
"What we're seeing is to some extent they are taking quite a hard line with the debts and with the negotiations," Polivnick says.
Similarly, John Frangos, a partner and deputy director of dispute resolution at Tilleke & Gibbins in Bangkok, tells Cirium that Thai has objected to almost every single debt-repayment application that his firm has prepared and submitted on behalf of clients which are creditors to the airline.
"It appears to be a clear strategy of the plan preparer to object to many debt-repayment applications as a way to try to reduce the overall debt amount," he suggests.
"[Thai] have been objecting to most applications. At least all the ones that we are working on – almost every single one. It seems to me that it's part of their strategy to use blanket objections. At least in our cases, most of the objections seem meritless."
Cirium has contacted Thai Airways for comment.
DEALING WITH BONDHOLDERS
Thai disclosed back in July that it had Bt71.6 billion ($2.4 billion) of outstanding debentures, a type of unsecured bond, due between 2020 and 2034.
A source close to the process adds that now that negotiations with lessors are coming to a close, it is other creditors including bondholders that remain to be negotiated with.
The bondholders are a "very mixed bag" of people, the person says, adding that none of them are keen to have their debt written down.
Buyers of corporate bonds tend to be institutional investors due to the large sums of money involved, but could also include unsophisticated investors who invest via mutual funds.
This person thinks that Thai's unsecured bondholders should be given a debt-for-equity swap, after which the government could inject new money into the carrier.
"Thai has got too much debt, and just shuffling the debt by saying 'We will push you out five years' doesn't make the debt go away. They really need to do a debt-for-equity swap on the debt," the person says. "The company needs real money, not just [to] magic debt into equity. That just removes debt; it doesn't give cash."
MEETING THE DEADLINE
Thai, as well as the country's government, has been adamant in public statements that it intends to submit a plan, and to do so on time. Most recently, deputy prime minister Wissanu Krea-ngam expressed his confidence that the airline would submit on time, according to a 9 February article in the Bangkok Post.
Earlier, in January, Thai Airways' acting president Chansin Treenuchagron, who is also one of the rehabilitation planners, said the airline was working diligently to submit the plan by its specified timeframe, although shortly after that announcement Thai exercised an option under the law to extend its deadline by an additional month to 2 March. Thai is not allowed any further extensions under law.
A lessor with exposure to Thai says the extension was no surprise, given that mark-up by the airline on an agreement with the lessor had already reflected a later filing time.
WFW's Polivnick believes that Thai's failing to submit a plan by 2 March is a "fairly remote possibility", given the severity of the consequences.
"If they don't file it and the court ends the rehabilitation, the airline will have to file for dissolution and I suspect that creditors all over the world will be bringing claims straight away to seize Thai assets, whether in Thailand or overseas," he says.
Thai's application to enter business rehabilitation was approved by the country's Central Bankruptcy Court last year, on 27 May, at which time an automatic "stay" on creditor claims came into effect. That stay restricts the ability of creditors to enforce any security or start any other litigation proceedings against Thai Airways. It also imposes a moratorium on creditors' rights, including – crucially for lessors – the right to pursue action to repossess property that is the subject of lease or hire purchase.
Polivnick adds that the more likely scenario is that Thai submits a draft plan, which would then require amendments if creditors give negative feedback.
Despite the law being quite clear that only two one-month extensions are permitted, Tilleke & Gibbins' Frangos does not see the process collapsing if Thai misses the 2 March deadline.
"The law is straightforward here, and I know Thai has been adamant that they will submit in time, but if they don't finish and they do legitimately need more time, then at least for me personally I can't see the whole process unravelling because they can't submit by the deadline," he says.
"Everyone will be frustrated, of course, that Thai can't submit the plan by the deadline, but, practically speaking, if they can't, I'm sure they will ask for more time."
Analysis by Michael Allen of Cirium