Thai Airways' lessors were given a 4 November deadline to tell the carrier what by-the-hour rates, rental haircuts, and other concessions they would be willing to offer the struggling flag carrier to help with its restructuring.
Sixteen lessors have exposure to the airline and its subsidiaries, to the tune of 41 aircraft in total, Cirium fleets data indicates.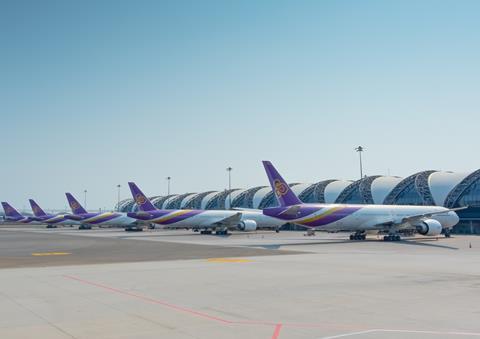 While most lessors appear to have made timely submissions, at least four have done so reluctantly – criticising, to varying degrees, the way Thai has managed the process.
On 21 October, during a virtual meeting, Thai presented lessors with a broad outline of what its future fleet might look like, although attendees said the airline did not provide many specifics and took no questions. Lessors had two weeks to prepare and submit their responses to a request for proposals (RFP) sent following the call.
Thai indicated that it was looking for by-the-hour arrangements for the next one or two years, as well as reductions in lease rentals thereafter, according to people who received the RFP. But a fortnight is not long enough for many lessors to prepare an adequate response, the four sources said, especially given the lack of detail offered about Thai's restructuring plan.
One specific offered by Thai was that it hoped to operate between 40 and 60 aircraft in 2021, according to three meeting attendees. (Thai currently has 116 aircraft in service or storage, according to Cirium fleets data.) However, the more granular detail that lessors say would have helped them prepare a better response to the RFP was not forthcoming from the airline.
"It's them saying: 'You need to reduce your rent' – but what we need to understand is whether our aircraft is viable for them," says one of Thai's lessors.
Thai operates multiple aircraft types, from Boeing 737-400 narrowbodies to Airbus A380 superjumbos. Market sources have suggested to Cirium that the diversity of aircraft does not make for a sustainable business model, especially in the Covid-19 environment, and Thai acknowledged during its 21 October lessor meeting that its fleet would need to be simplified as part of its restructuring.
It has since put its entire Boeing 747 and 777-200/300 fleets up for sale.
Lessors with narrowbody exposure to Thai expressed greater confidence to Cirium that their aircraft would be utilised by the carrier during its recovery phase. Those with widebody exposure, however, bemoaned the ambiguity as to whether Thai would need their aircraft or not, given that international air travel is likely to recover more slowly than domestic and regional.
PER-HOUR PROBLEMS
By-the-hour agreements are an increasingly popular ask from airlines undergoing restructuring. In September, for example, Aeromexico said it would modify most of its aircraft and engine leases into by-the-hour agreements to reduce monthly costs while it increased network capacity. In Asia-Pacific, Lion Air in summer approached its lessors requesting by-the-hour arrangements, but has since changed tack after they baulked at the idea.
Acquiescing to a by-the-hour arrangement presents several risks to lessors, particularly widebody lessors, says a person close to the Thai negotiations. Unless any minimum charges are stipulated in the agreement, Thai could sign the by-the-hour agreement and still not operate the aircraft, in which case the lessor would not receive income.
The higher the by-the-hour rate a lessor bids, the person adds, the less inclined Thai is likely to be to fly the aircraft, even if it does sign the agreement. This forces lessors into a price war as they compete to offer the cheapest rate in the hopes their aircraft will be utilised. A normal operating lease, under which an airline pays monthly rentals regardless of utilisation, does not engender the same anxieties.
"The higher your number, the less likely Thai Airways will use your aircraft during the PBH stage. They may sign it, but the reality is they won't use your aircraft at all," the person says.
PRESSURE TO SUBMIT
Besides the dearth of detail provided by Thai, the four lessors to whom Cirium spoke also complained that the two-week window to prepare the RFP response was too short, especially for those that need time to consult with and obtain consent from their lenders, who may have security over their aircraft.
"If you have got a big boy who is internally funded, they only have to deal with themselves, but if they have a limited recourse operating lease with lenders behind them, they need lender consent," the person close to the process says.
"Banks are always depending on the cash flow of the airline; if that cash flow has stopped, there is nothing to service the debt."
On top of the short deadline and the uncertainty of getting paid in a by-the-hour agreement, some lessors feel Thai pressured them to submit by 4 November.
One of the four lessors to whom Cirium spoke said it asked Thai what would happen if it missed the deadline. Thai replied that in that case, it would use the existing lease terms instead. This would be to the disadvantage of the lessor, the person says, as those terms would not be competitive against the discounted proposals submitted by other lessors.
WHAT HAPPENS NEXT
Information may be lacking partly because Thai's rehabilitation plan is still being written.
John Frangos, a partner and deputy director of Tilleke & Gibbins' dispute resolution group, is acting for some lessors exposed to Thai.
"I think aircraft lessors just want to understand what Thai Airways' intentions are, but that's very challenging right now because Thai is still preparing their rehabilitation plan," Frangos tells Cirium.
"At the current stage of proceedings, the plan preparer is still drafting the rehabilitation plan, and it's uncertain when that will be released. I would anticipate early in 2021, but delays are possible. When the draft plan is released, the creditors will have the opportunity to vote on it, and then the court will consider whether to approve it. If it passes both hurdles, a plan administrator will implement the plan, and Thai Airways will then have to follow it for next few years.
"Until that plan is complete, and there's more of a long-term picture of what Thai Airways will do, it's very challenging for lessors to anticipate what Thai's needs will be."
CREDITOR CLAIMS DEADLINE
As well as the 4 November RFP deadline, lessors – plus all of Thai's other creditors – had to submit their debt-repayment applications on 2 November, two days before the RFP deadline. As part of that, creditors must state what debt they are owed by Thai, and provide supporting documents.
Frangos, who is assisting some creditors with their applications, says that for the first time, Thailand's Bankruptcy Court and Legal Execution Department have set up an electronic platform to receive debt repayment applications, because of the sheer number of creditors involved.
"In fact, this is the largest bankruptcy case in Thai history," he says.
The Legal Execution Department is a government agency under Thailand's justice ministry tasked with (among other things) enforcing civil judgments, including those relating to bankruptcies, Frangos explains. There is also a group within the Legal Execution Department called the official receiver, tasked with the administration of Thai's rehabilitation process.
"Thai Airways is one of Thailand's biggest companies. They have creditors everywhere. Thai Airways also has many individual creditors, in the form of customers who bought tickets, [who] had their flights cancelled due to Covid, and are now due refunds – they are all creditors."
From 2 November, there is a 14-day period in which either Thai Airways, creditors, or the official receiver can object to a creditor's debt-repayment application.
"If the creditor is considered very important to Thai Airways' business then they may be offered a deal," Frangos says. "If a creditor is not viewed as important, they may receive a bigger haircut on their claim."
Analysis by Michael Allen of Cirium