Condor's new Polish owner intends to replace the 16 ageing Boeing 767s operated by the airline with a larger fleet of long-haul aircraft.
During a press briefing today, Polska Grupz Lotnicza's chief executive Rafal Milczarski – who also heads subsidiary LOT – said that the Condor fleet renewal will begin by 2024 and that the German leisure carrier would require "at least" 20 aircraft for its long-haul operation.
Polish flag carrier LOT previously operated 767s but has replaced them with 787s. However, Milczarski suggests that PGL may look beyond the 787 for Condor and, indeed, for growth of LOT's fleet.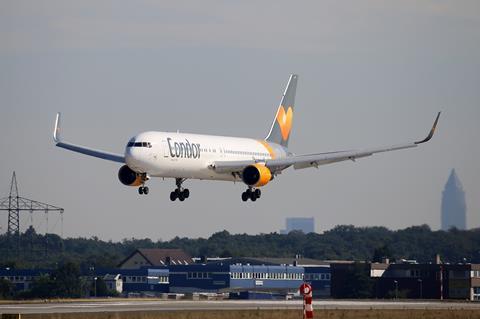 LOT will need "at least" 10 additional long-haul aircraft over the coming years, and PGL will talk to both Boeing and Airbus in deciding on a "perfect fleet mix" for the group, says Milczarski.
He declares himself "thrilled" by the presence of Airbus A320-family fleet jets in the Condor fleet, citing the "stigma" of predominantly operating Boeing jets in LOT's mainline network.
Cirium fleets data shows that LOT has 15 787s and 16 737s, including five Max 8s and three -400s in storage. The Polish flag carrier also has 35 Embraer E-Jets and 12 Bombardier Q400 turboprops, and has wet-leased additional aircraft, including nine CRJ900s and two CR700s from Estonian carrier Nordica.
LOT has nine Max 8s and one 787-9 on order, and holds options on a further two Dreamliners.
There are eight leased or wet-leased Airbus jets in service with LOT, and Milczarski says the airline has for a long time been "very seriously" evaluating whether to place a direct order with the European airframer.
Condor's fleet meanwhile includes 12 A320ceos, 10 A321ceos and two A330-200s – including one wet-leased from the UK's AirTanker – alongside 15 757-300s and 16 767-300ERs.