The relaxation of travel restrictions in some markets and a consequent increase in bookings helped to stop cash outflows at Lufthansa Group during the second quarter.
Its fortunes were further improved by faster-than-expected progress on cost-cutting, the group says in its latest earnings report today.
"All Lufthansa employees worldwide have made great efforts to significantly lower costs in all areas," says chief executive Carsten Spohr. "As a result, we have been able to stop the outflow of funds in the current phase of reviving our business and generate a positive cash flow for the first time since the beginning of the pandemic."
Lufthansa cites "solid demand" and "strong bookings" from late in the second quarter onwards, particularly on European leisure routes. Flights to the "key" North America market have also picked up, with a full reopening in both directions expected from "late summer onwards". For Asia, travel "without major restrictions" is forecast "towards the end of the year".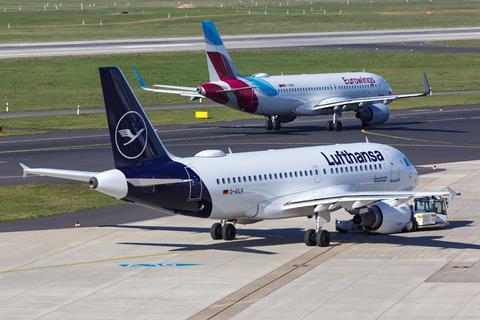 Capacity measured in available seat kilometres (ASKs) is expected to increase to 50% of pre-crisis levels in the third quarter as demand returns, which should "stop operating cash outflows" and generate a positive EBITDA for the period, Lufthansa says.
Capacity in ASKs rose from 21% of pre-cisis levels in the first quarter to reach 29% in the second three months. Within the latter period, ASKs reached 40% by the end of June, when load factors were at 58%.
The group is currently serving 84% of its pre-crisis destinations and expects to be near 100% by September.
Lufthansa Group says it has already achieved half of the €3.5 billion cost savings planned by 2024 – a milestone that it originally expected to reach by the end of 2021.
More job cuts are planned this year amid a better-than-expected response to calls for voluntary redundancies, with further significant savings likely in Germany and at Swiss.
So far during the crisis, the number of group employees has dropped by 30,000 to 108,000.
Cargo was again a bright spot for the group in the second quarter amid continued "scarce capacity" and high demand, with strong yields and a load factor 9.9 percentage points higher year on year at 75.7%.
As it continues to cut costs, the group had €11.1 billion of liquidity available at the end of June, which includes €3.9 billion from government stabilisation measures and loans yet to be drawn down.
It says it is planning a captial increase soon as its seeks to return government bailout money.
Lufthansa Group's EBIT loss of €979 million during the second quarter essentially halves that seen during the same period of 2020, when most of its fleet was completely grounded during the first wave of the pandemic. EBIT was positive at €754 million for the second quarter of 2019. Revenue of €3.21 billion for the second quarter this year was 70% up on 2020 levels but compares with €9.63 billion in the same period of 2019.
The group acknowledges that while the outlook has improved, there remain significant risks around future developments related to the pandemic.