Lufthansa will halve the number of new aircraft it takes through to end-2023 and cut 1,000 jobs as part of a second set of restructuring measures announced today.
Among a series of resolutions approved by the company's board, a maximum of 80 new aircraft will be added to the group's fleet through to 2023 – around half the number planned pre-coronavirus.
It does not specify which incoming aircraft will be targeted, but Cirium fleets data shows Lufthansa Group has almost 200 aircraft on order.
Lufthansa mainline's outstanding orders comprise 61 Airbus A320neos, 35 A321neos, 27 A350-900s, 20 Boeing 777-9s and 20 787-9s.
Swiss's orderbook includes 15 A320neos and eight A321neos, alongside a single A220-300.
Austrian and low-cost unit Eurowings have no outstanding orders, Cirium data shows.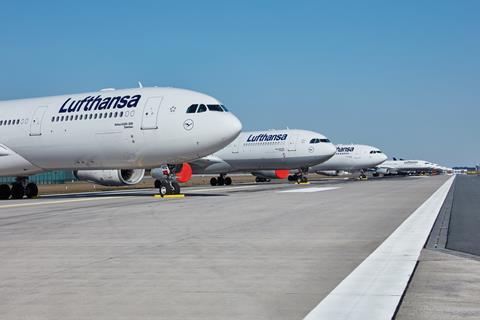 Further measures announced today include the cutting of 1,000 administration positions from the group's German mainline operation, while leadership positions will be reduced by 20% across the group. At the same time, the number of board members will be reduced by one at each of its cargo, training and catering units.
Even with the crisis abating, Lufthansa Group claims its has a "personnel surplus of at least 22,000 full-time positions" and calls on unions and other bodies representing employees to agree on "crisis-related measures" to avoid layoffs "wherever possible".
"So far, negotiations have only been successful with the UFO cabin union," the group states.
Other new measures include the expedition of splitting off the mainline Lufthansa operation into a separate corporate entity.
Explaining the reason for this new round of measures, Lufthansa describes the group's financing as "currently secure", but nevertheless notes that an "additional burden" will be placed on the business in coming years as it repays the government loans and investments that have stabilised it during the pandemic. For this reason, alongside the fall in demand for air travel, "sustainable cost reductions" are inevitable, it states.
Lufthansa Group is aiming to pay off those government loans and additional investments "as possible to avoid a further increase in interest charges", it adds.
The group's first set of measures, announced in April, included the reduction of its fleet by 100 aircraft an end to operations by its Germanwings unit. The group's carriers had around 750 aircraft in service when the coronavirus crisis began.
Lufthansa Group's "ReNew" restructuring programme is scheduled to run until December 2023 and is headed by Detlef Kayser, board member with responsibility for airline resources and operation standards.