Lufthansa Group chief executive Carsten Spohr sees the Rome Fiumicino hub of acquisition target ITA Airways as better positioning it to serve southern hemisphere markets as talks on a deal continue.
Italy's finance ministry opened exclusive talks with Lufthansa in late January over its bid to initially take a minority stake in Italian national carrier ITA, together with options on ultimately acquiring the remaining shares.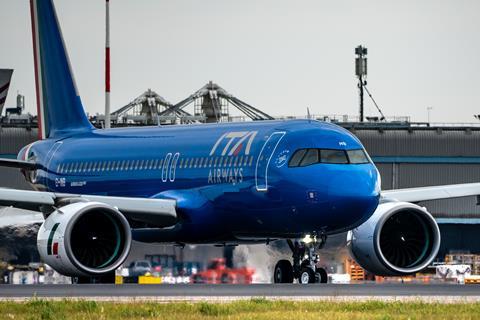 "Both sides are currently negotiating exclusively on the form of a potential investment in the Italian airline ITA Airways," Lufthansa said in disclosing its full-year 2022 results today.
Spohr highlighted the appeal of adding a southern European hub to the group's existing network operations, which are based around the hubs of Frankfurt and Munich in Germany, Zurich in Switzerland, Austrian capital Vienna and Brussels in Belgium.
"The five hubs we have are fairly northern positioned, which has its advantages when you think about the North Atlantic, Japan and China. When it comes to the, in my view, relatively small but growing southern hemisphere markets, being further north is a disadvantage because a certain share of our European passengers need to backtrack," Spohr explains.
"It doesn't matter for the Germans or the Scandinavians or the east Europeans, but it does matter for the Iberian peninsula passengers that we have, or the Italian themselves. So to have some of that traffic re-routed via another hub makes sense."
ITA is one of two southern European airlines openly in the market for investors alongside TAP Portugal. While Spohr does not rule a move for the Portuguese carrier, he outlines a key benefit of ITA and its Rome hub.
"The difference between TAP and ITA, is TAP would be new markets for us. They only serve two markets which we serve ourselves in Latin America," he says, noting that as the group covers many of the same destinations at ITA, this would enable it to increase its market share and reduce backtracking time.
"Now we focus on ITA. Then of course we will be looking at TAP, like probably my two best friends in the industry will as well, and we take it from there," he says, referring to rival European airline groups Air France-KLM and IAG.
Air France-KLM chief executive Ben Smith recently reiterated the group's interest in TAP, while IAG boss Luis Gallego said the carrier's own move for Spanish airline Air Europa did not rule other acquisition opportunities.