Lufthansa Group is forecasting a "significant improvement" in operating profit from the second quarter onwards as travel demand continues to pick up, but has stopped short of projecting a full-year outlook amid fresh global uncertainties including the Ukraine crisis.
It comes after Lufthansa cut group adjusted EBIT for 2021 to €2.3 billion ($2.6 billion) from €5.5 billion the previous year. That includes €581 million in restructuring costs. Net loss fell by two-thirds to €2.2 billion.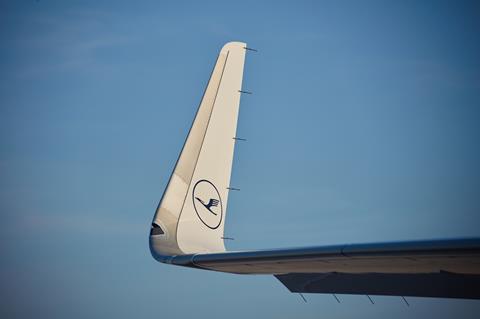 The cut in losses was achieved on group revenues up a quarter to €16.8 billion. That was helped by increased passenger levels from the summer onwards, which supported a return to group profit in the third quarter.
However, passenger activities for the full year remained loss-making. The group's network carrier business cut adjusted EBIT losses by a quarter to €3.5 billion. Low-cost business Eurowings made more progress in cutting losses, but still posted a full-year EBIT loss of €230 million.
Lufthansa Group 2021 performance by carrier
Revenue 2021
Change v v2020
Adjusted EBIT
Change v 2020
Passengers
Change v 2020
Source: Lufthansa
Lufthansa
€5.1bn
23%
-€2.6bn
23%
23.5m
31%
Lufthansa Cargo
€3.8bn
38%
-€1.5bn
93%
Swiss
€2.1bn
21%
-€417m
39%
7.1m
26%
Eurowings
€822m
37%
-€230m
67%
7.8m
8%
Austrian
€743m
62%
-€264m
18%
5.0m
61%
Brussels Airlines
€560m
35%
-€189m
35%
3.5m
47%
Other group businesses, most notably Lufthansa Cargo, were though profitable. Lufthansa Cargo nearly doubled adjusted EBIT to a new record of €1.5 billion.
Group chief executive Carsten Spohr says: "We have decisively and consistently advanced and implemented the transformation and restructuring of the company. Today, the Lufthansa Group is more efficient and more sustainable than before the pandemic.
"We are very certain that air traffic will experience a strong upswing this year. Our strategy of expanding the private travel segment has proved successful and is paying off," he says. "The pent-up demand for leisure and business travel was already significantly noticeable in 2021 – and this trend is set to intensify in 2022."
The group expects full-year capacity for 2022 to be at about 70% of 2019 levels and for capacity this summer to reach 85% of pre-crisis levels. That includes a return to 95% of capacity on short- and medium-haul routes, while Eurowings will outstrip 2019 capacity this summer.
Lufthansa flags increased external costs within the sector, including higher air traffic control and airport charges, as well as rising oil prices. It though believes it will be "significantly less affected by this cost inflation than its competitors", citing as one example its move to hedge at an early stage against rising fuel prices.
"Major uncertainties regarding the dramatic developments in Ukraine and the economic and geopolitical consequences of the conflict, as well as remaining uncertainties regarding the course of the pandemic, do not allow to provide a detailed financial outlook at present," it says.
Lufthansa though expects further improvements in adjusted EBIT for 2022. "After a challenging first quarter, which is still impacted by the spread of the Omicron variant, the Lufthansa Group expects a significant improvement in operating results in the following quarters," it says in its outlook.
Lufthansa Group chief financial officer Remco Steenbergen says: "Our ambition is clear – we want to return to positive results as quickly as possible. We have laid the foundations for this, above all by implementing our cost reduction programme.
"The strong recovery in demand in recent weeks also gives us cause for optimism. We cannot yet foresee how the significant increase in geopolitical uncertainties will affect demand and the economic environment. Nevertheless, we will be able to continue and accelerate our economic recovery in 2022."