Lufthansa Group has outlined plans to cut the equivalent of 22,000 full-time jobs, half of which will be in Germany, and operate 100 fewer aircraft as it recovers from the effects of the Covid-19 crisis.
The airlines met with representatives of three of its trade unions on 10 June and has set a goal of reaching agreement on the proposed job cuts by 22 June. The airline says its aim is to "avoid dismissals as far as possible by means of short-time work and crisis agreements".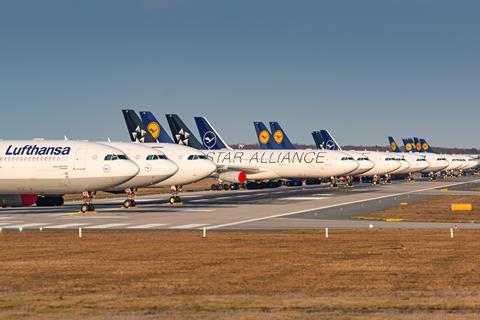 "Without a significant reduction in personnel costs during the crisis, we will miss the opportunity of a better restart and risk Lufthansa Group [emerging] considerably weakened after it," states Lufthansa labour director Michael Niggemann.
He adds that "personnel overhang is likely to become even larger", in which case "implementing unilateral measures" would become inevitable.
"We want to avoid this scenario. That is why we are doing everything we can to achieve concrete results with our collective bargaining partners by 22 June," says Niggemann.
Lufthansa Group chief Carsten Spohr has asked for "flexibility" from unions and said earlier this month that he wanted to negotiate labour concessions before an extraordinary general meeting on 25 June. During that meeting, shareholders will make a decision on the €9 billion ($10.2 billion) financial support package Lufthansa agreed with the German government in May.