Malaysia Airlines has deepened cooperation with fellow Oneworld alliance member Qatar Airways, with the two carriers partnering in areas such as cargo and airline operations.
The two airlines have signed a memorandum of understanding to "[work] closely together across multiple areas of the business to offer an unrivalled and range of value-added services to passengers".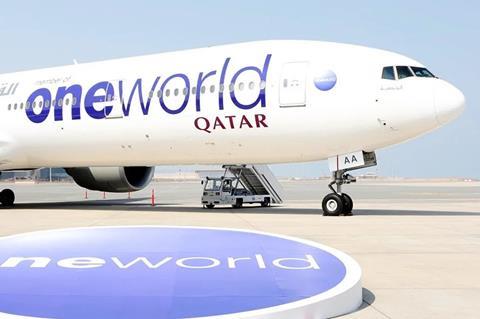 The pair already place their code on each other's flights, covering regions in Europe, Africa and the Americas, as well as Southeast Asia. The two airlines first entered into a codesharing partnership in 2004.
"[The] two Oneworld partners have also agreed to maximise synergies in other areas of the business such as air cargo, operations or commercial services, that will create a game-changing innovative synergy for both carriers in leading the new travel demand ahead," states Malaysia Airlines.
Airline chief Izham Ismail says: "[It] underscores the commitment of both airlines to provide passengers with safer, and increased choice of flights, wider destinations and greater flexibility on top of the excellent service hospitality throughout their travels with us."
Calling the partnership a "significant moment" for both carriers, Qatar Airways chief Akbar Al Baker says: "This partnership will serve to link both our networks and allow us to work together across different aspects of the business therefore creating exciting opportunities for our joint passengers, as well as for our airlines."
Adds Al Baker: "As we move forwards a post-pandemic world, successful business is driven by strong partnerships, and this close cooperation with Malaysia Airlines is a firm example of how symbiotic international partnerships can pave way to industry recovery."