Malaysia Airlines parent company Malaysia Aviation Group (MAG) swung back to profitability as restructuring efforts bear fruit, though it warns of the impact of rising fuel prices on operational costs.
For the year to 31 December 2021, the group posted a positive EBITDA of MYR433 million ($101 million), compared to a MYR1.8 billion loss in 2020. MAG did not provide a breakdown of how its different units fared in the year.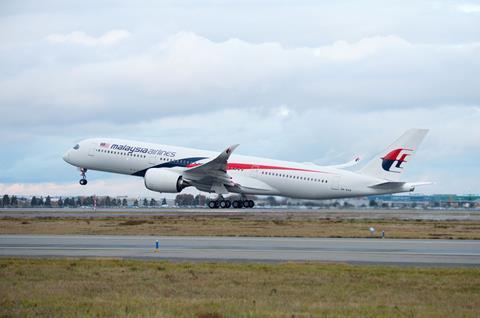 A key revenue generator for the period was cargo operations, with freight unit MAB Kargo reporting revenues of around MYR3 billion in the year. MAG also notes that the unit outperformed revenue targets by 71%.
As for mainline carrier Malaysia Airlines, it was able to increase passenger yield despite a drop in traffic and capacity - by 62% and 71% respectively - as a result of better airline revenue maximisation.
The return to profitability comes as the airline group exited restructuring in 2021, a move it says has allowed it to "holistically repair its balance sheet and address decades-long legacy issues".
MAG says that through restructuring, it trimmed liabilities of over MYR15 billion, and eliminated MYR10 billion in debt.
"Lower operating cost from its cost savings/avoidance initiatives across the group as well as lower leasing cost post its successful restructuring further contributed to the improved performance in 2021," the group adds.
In its outlook, MAG expects cargo operations to continue to lead revenue growth. It notes that borders reopening around the world is leading to a "strong uptake" in passenger travel demand. It previously indicated plans to operate 70% of pre-pandemic capacity by the end of the year.
However, it flags the ongoing Ukraine crisis as a cause for concern. Rising fuel costs - an impact of the crisis - will pose challenges in "managing operational costs", the group says.
At current levels, MAG says fuel costs make up nearly 45% of group operational costs, up from 35-40% a year ago.
"All companies within the group have taken immediate steps to manage the impact of higher fuel cost," MAG adds.