Malaysia Aviation Group (MAG), Malaysia Airlines' parent company, has indicated plans to retire its Airbus A380 fleet "in the coming months".
"We're currently exploring ways of disposing the aircraft. We're cognisant of the challenges of how to sell the aircraft [which is one possibility] but we're exploring ways," MAG's group chief executive officer Izham Ismail said today at a media briefing about its business update.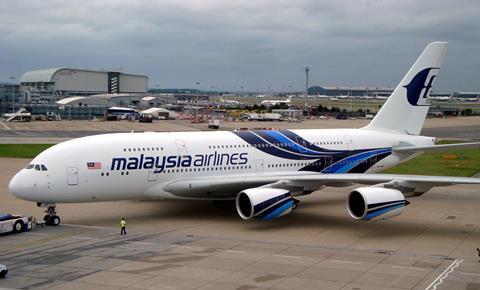 He states that MAG's management team has made its recommendation to the board of directors and will decide soon.
Cirium fleets data shows that mainline carrier Malaysia Airlines has six A380 jets in its fleet and these are currently in storage.
The move will also free up one of MAG's maintenance lines, which is dedicated to its A380 fleet, allowing the group's MRO division to market this capacity as a product to other operators.
This will tie in with the group's "Long-Term Business Plan 2.0" – which Izham emphasises is the relaunch of the original, that was operationalised in the fourth quarter of 2019 – to diversify from focusing solely on airline operations.
Under the plan, MAG will reorganise operations to include two other profit centres, travel solutions and aviation services. Travel solutions aims to provide services peripheral to airline operations, and MAG shared plans for an itinerary-planning application. MRO and cargo operations are included within aviation services.
Izham further states that its pilgrimage-focused subsidiary Amal will not be utilising A380s and will operate A330-200 aircraft.
To replace its ageing A330 fleet, MAG will also be pursuing a "widebody campaign", targeted to commence 2023-2024. This is contingent upon lease negotiatons on current widebodies, Izham says, but if it goes according to plan, these widebodies are expected to enter service 2025-26.
He adds that MAG currently has no plans to convert A330s to freighters.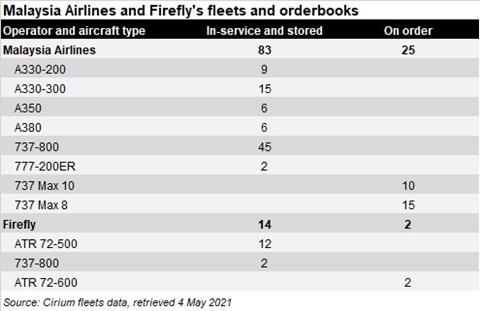 The group will also take delivery of all 737 Max jets in its orderbook, as part of creditor negotiations with Boeing. These will start arriving in 2024 or earlier, over three to four years.
Regional subsidiary Firefly will also transition to an all-Boeing 737NG fleet this year.
Cirium data shows that mainline carrier Malaysia Airlines has on order 10 737 Max 10 and 15 Max 8 jets. Firefly's in-service and stored fleet comprises 12 ATR 72-500 turboprops and two 737-800 jets.
MAG's group chief strategy officer Bryan Foong says that under the long-term business plan, the group is seeking conservative growth for its network. Its focus is on ASEAN and more generally, the Asia-Pacific region, before seeking opportunities for its long-haul network.
He says at the same briefing: "We expect the market to be changed [post-pandemic, and based on that]… see how [other] airlines will be reshaping their networks moving forward."