The parent company of Mesa Airlines reported an operating profit of $27 million during its first quarter of 2021 as it plans to continue to allow its mainline customers to defer payments to aid their recovery during the ongoing coronavirus pandemic.
The Phoenix-based regional carrier's operating profit was roughly flat compared with the $27 million it generated during the first quarter of 2020, which on Mesa's earnings calendar ends 31 December.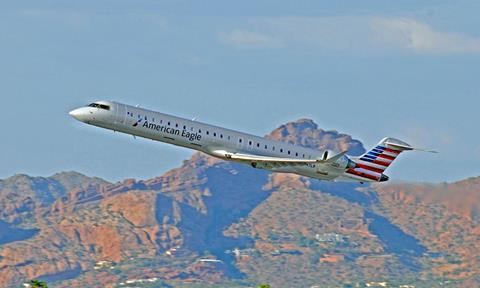 Mesa and other regional carriers have been somewhat insulated during the coronavirus pandemic because mainline customers American Airlines and United Airlines pay a fixed amount each month to operate regional flights on their behalf. Since the start of the pandemic travel downturn, Mesa has allowed these payments to be deferred and counted as revenue at the end of their contract terms.
During the first quarter Mesa deferred $5 million in revenue from United and American. It forecasts that $33 million in total revenue will be deferred for both fiscal 2020 and 2021.
Operating revenue during the first quarter was $150 million, down 18% year-on-year from $184 million during that quarter in 2020.
Block hours contracted through mainlines shrank by 40% year-on-year during the first quarter as coronavirus infections reached new levels in the USA during November and December. Looking ahead to the second quarter, Mesa projects that its block hours will be at 70% compared with 2019 levels and 75-80% of 2019 levels during the third quarter.
Mesa ended the quarter with $181 million liquidity, up from $99 million from its previous quarter, spurring Cowen analyst Helane Becker to reiterate her "market perform" rating for the company's stock.
The carrier as of 31 December had $746 million in debt. If no new debt is added then it expects to make payments and to end 2021 with $650 million.
The regional carrier received $195 million from the US Treasury Department during the first quarter as a five-year loan under the CARES Act programme. It also expects to receive a total of $49 million in payroll support from the US Treasury by the time the programme expires on 31 March.
The regional carrier's contract for DHL was only 1% of its business during the first quarter but the carrier aims to grow its air freight business in the future.
Mesa during the first quarter flew 72 Embraer E175 aircraft and 8 MHIRJ Aviation CRJ-700s for United, along with 54 CRJ-900s for American and two Boeing 737-400 freighters for DHL.