North American ultra-low-cost carriers Allegiant Air and Viva Aerobus were authorized 17 October by Mexico's Federal Economic Competition Commission (COFECE) to move forward with a proposed transborder commercial alliance.
"This approval is a critical next step to achieving a historic and unique alliance between two low-cost carriers in the world's most dynamic airline market," says John Redmond, CEO of Allegiant.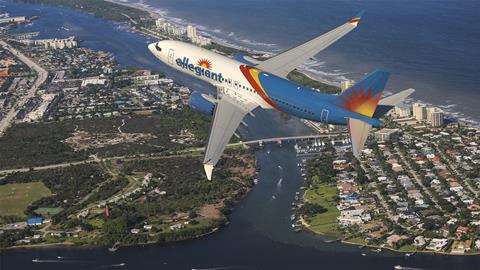 Approval from the US Department of Transportation (DOT) still stands as a major hurdle for the companies as they seek to expand low-fare service between Mexico and the USA, specifically to destinations currently lacking nonstop flights.
The joint venture would give customers access to each airlines' respective loyalty programmes, sales systems and route networks to operate flights together, Las Vegas-based Allegiant says. That carrier would begin operations in Mexico for the first time, including service to popular Mexican beach destinations like Cancun and Puerto Vallarta, and Viva Aerobus would expand to US markets such as Las Vegas and Florida.
"COFECE's authorisation is one step forward to forging an alliance that will strengthen a competitive environment with a larger offering between Mexico and the US," says Juan Carlos Zuazua, CEO of Viva Aerobus.
The alliance would also give Allegiant an equity stake in Viva Aerobus.
Shortly after the companies applied for DOT approval in December 2021, Allegiant's former longtime chief executive Maurice Gallagher called Mexico a "green field" that holds many possibilities for the airline.