Mexico's low-cost carrier Interjet is on the verge of collapse after the airline cancelled flights over the weekend and a union representing its workers called for a strike to protest unpaid wages, according to media reports.
Attempts to contact the Toluca-based airline by email and phone on 3 November were unsuccessful, and its website was down.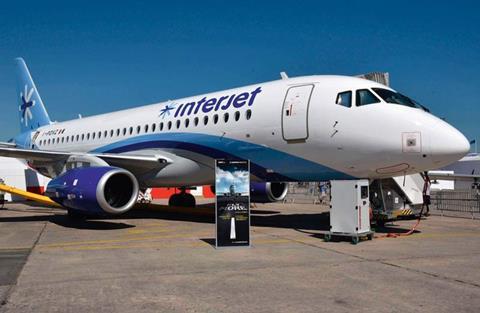 Mexican media reports that the CTM union, representing aviation workers at the carrier, called for the strike after 5,000 airline employees had not received pay for the past two months.
The move comes after the airline shut down operations completely on 1 and 2 November – cancelling about 50 flights that affected around 3,000 passengers. It claimed "cash flow" problems, and says it was unable to pre-pay its fuel bills, Latin American aviation website Aviacionline.com says.
The carrier's last social media post, on 1 November, says that it would resume operations on 3 November, but that had not been confirmed.
Flight tracking website flightaware.com showed two Interjet flights currently in the air, but it was unclear if these were revenue flights.
Meantime, Ricardo Sheffield, the head of Mexico's Consumer Prosecutor's Office (Profeco), says on 3 November that the office will issue an alert about doing business with the company. In a recent interview in Mexican media, Sheffield said the airline is "practically bankrupt".
According to Cirium fleets data, Interjet operates six Sukhoi Superjet 100s and flies only domestic Mexican routes. International routes to the United States and other Latin American countries were all cancelled after the coronavirus decimated passenger demand.
Earlier this year, reports said that Interjet, Mexico's third-largest carrier after Aeromexico and Volaris, was negotiating with lessors to reduce its Airbus fleet in order to adapt its capacity to the pandemic.