Mexican ultra-low-cost carrier Volaris is on track for one of the fastest recoveries in the industry even though the coronavirus continued to drag on results in the fourth quarter 2020, the airline says on 19 February.
In December, Volaris' capacity (in available seat miles) was up 102% year-on-year. Its load factor during the fourth quarter for domestic flights was 83.5%, and for international flights was 72%, bringing that number overall to 80%.
"The capacity and load factor represents one of the fastest recoveries of any airline worldwide," says Holger Blankenstein, the airline's executive vice-president responsible for commercial operations.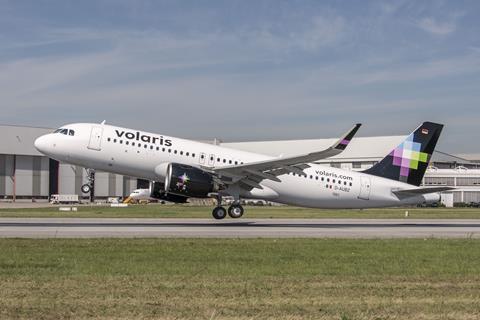 The carrier says revenue for the final quarter of the year was Ps8 billion ($392 million), compared to Ps9.7 billion a year earlier, a decline of 16.7%. Revenue for the year was Ps22.2 billion, down 36% from 2019.
Profit in the quarter fell to Ps897 million, down about 30% from Ps1.3 billion in 2019. For the full year 2020, the airline posted a net loss of Ps4.3 billion.
During the quarter that ended in December, Volaris says it began operating two new domestic and seven new international routes. The airline transported a total of 14.7 million passengers in 2020.
For the first three months of the new year 2021, the carrier says it is being "conservative" as new travel restrictions, especially the US coronavirus testing requirement that went into effect on 26 January, is once again dragging on demand. "This uncertainty has softened first-quarter demand," Blankenstein says.
"Volaris operates approximately 30% of its network from Mexico to the USA and expects a short-term reduction in demand for cross-border flights as a result of recent USA regulations requiring international passengers arriving to the USA to have completed a negative Covid-19 test not more than 72h prior to departure."
The leisure-focused airline is looking forward to the spring break period, which begins at the end of this month, and the Easter holiday travel season, though ticket sales have been slow.
"We are still seeing low booking curves and the shortening of the booking window," Blankenstein says. "We are closely observing Easter high season, which should kick in in late March and early April, and we expect to see some stabilisation around that time."
With the Easter holiday falling on 4 April this year, related traffic and revenue will be split between the first and second quarters.
Blankenstein says bookings are still "below regular patterns". But the USA's ongoing vaccination campaign may improve customer confidence and release pent-up demand, giving Volaris "cautious optimism" for the holiday.
The airline ended 2020 with 86 aircraft in its all-Airbus fleet, including six A319s, 64 A3420s and 16 A321s. Of those, 35% are the more-efficient Neo variants. According to Cirium fleets data, the airline has another 99 aircraft on order from the Toulouse-based airframer.