Volaris says its "disciplined growth strategy" through the changing demand environment during the fourth quarter helped it achieve a 43% rise in total revenue over the same period in pre-pandemic 2019.
Revenue at the Mexico City-based ultra-low-cost carrier (ULCC) rose to Ps.13.9 billion ($680 million) during the final quarter of the year. That compares to Ps.9.73 billion in the same period two years ago.
For the full year 2021, the airline reported revenue of Ps.44.7 billion, a 29% increase over 2019.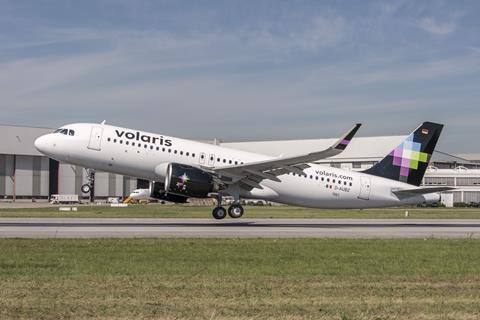 "In 2021, despite the demand uncertainty associated with Covid-19, we were able to report a strong performance," chief executive Enrique Beltranena says on 24 February. "Going forward we will continue to focus on executing our growth strategy. This centres upon catering to the travel demands of a large, growing middle class in Mexico, focusing on longer-haul bus substitution, and growth in our international markets."
The company said it posted a fourth quarter loss of Ps.200 million that was impacted by a one-off accounting charge of Ps.2.25 billion "related to the termination of a non-derivative financial instrument as a result of the change in the functional currency".
Without the charge, the airline would have earned a profit of Ps.1.56 billion, up 21% over the figure for the fourth quarter in 2019.
Volaris changed the currency in which it reports from the Mexican peso to the US dollar at the end of 2021.
"As a result of the recent developments in the company's operational environment, the way it measures its business performance, the determination of the selling fares based on US dollar, the increase of operations in the international market, and that most of Volaris' cost is determined and denominated in US dollars, the company concluded that the currency that most reflects its operations is the US dollar," the carrier says.
Volaris adds the shift will also protect it from peso volatility and will improve comparability with other companies.
The ULCC transported 7.3 million passengers during the fourth quarter, 27% more than in the same period in pre-pandemic 2019. Capacity as measured in available seat miles (ASMs) rose 27% to 8 billion. Load factor was 86.9%.
Volaris added seven Airbus A320neo aircraft to its fleet in the last three months of the year, bringing to 101 the total number of aircraft - six A319s, 79 A320s and 16 A321s. Some 45% of those aircraft are the more efficient Neo models.
In 2022, the company expects to add 14 more aircraft, ending the year 115 in total. It aims to grow ASM capacity "in the mid-twenties" pending no further pandemic or macroeconomic disruptions.
Volaris is targeting full-year operating revenue of between $2.6 and $2.8 billion.
The company will hold a webcast on 25 February to detail its fourth-quarter results.