Alaska Air Group chief executive Brad Tilden is to step down from the role on 31 March 2021 to be succeeded by Alaska Airlines' president and long-time company veteran Ben Minicucci.
Tilden, who has been chief executive since 2012, will retire from the CEO role but retain his position as Alaska Air Group's board chair, says the Seattle-based airline company.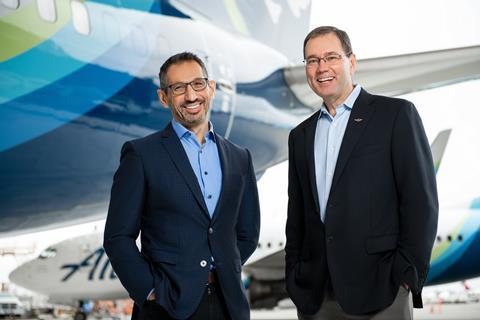 Tilden was 59 years old as of March, according to Alaska's securities filings.
Minicucci, a 16-year Alaska veteran, has been president of Alaska Airlines since 2016. Alaska Air Group also owns regional carrier Horizon Air.
The CEO transition occurs as Alaska and peers globally seek to stem massive losses. Alaska lost $431 million in the third quarter of 2020 and $877 million in the first nine months of the year.
"This announcement is the culmination of a multi-year succession planning process," says Alaska board member Patricia Bedient. "The board has complete confidence in Ben's ability to lead Alaska to great success in the years to come."
Minicucci's career at Alaska also included a stint starting in 2016 as chief executive of Virgin America, which Alaska had then-recently acquired. He has also been Alaska's chief operating officer, vice-president of Alaska's Seattle operations and vice-president of maintenance, according to the company.
Prior to joining Alaska in 2004 Minicucci had worked at Air Canada.
"I am honoured and humbled by this incredible opportunity, and profoundly grateful for Brad's leadership and partnership," says Minicucci.
Tilden has worked at Alaska for 27 years, holding positions including executive vice-president of finance and planning, chief financial officer and corporate controller. He also was president of Alaska Airlines from 2008 to 2016.
Story updated on 9 November to correctly spell one instance of Minicucci's name.