Hong Kong's recently-announced decision to ease a number of onerous travel restrictions is only likely to lead to a "modest increase" in capacity, says Cathay Pacific, as the airline continues to see report weak traffic.
Cathay says it welcomes the easing of measures on 1 April – including lifting a travel ban to several of its key markets including the USA and UK, as well as reducing the length of on-arrival quarantine – noting that demand has slightly picked up.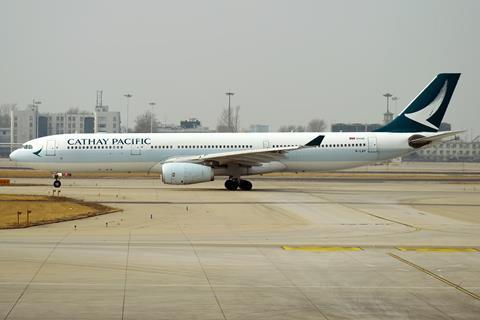 "However, travel and operational restrictions remain stringent, and we have only been able to achieve a modest increase to our passenger flight capacity," says Cathay group chief customer and commercial officer Ronald Lam.
"Operational constraints" brought about by the restrictions also mean that cargo capacity will not likely increase beyond the current levels, which are around 30% pre-pandemic capacity.
Hong Kong remains among the few places in the world to pursue a zero-infection strategy, in line with Mainland China. As the Omicron variant of the coronavirus spread around the world early in the year, the city banned all incoming flights from several countries, including the USA, UK as well as the Philippines.
The ban has since been lifted, but Hong Kong has kept a tight lid on arrival numbers.
The isolation period has also be halved to seven days for incoming travellers, provided they are fully-vaccinated, test negative before departure, and on the sixth and seventh day of quarantine.
These measures have led to another "difficult month", says the embattled carrier in traffic results for March.
Cathay flew just over 30,000 passengers in the month, slightly lower than February's figures, but about 65% higher year on year. The figure is just 1% pre-pandemic passenger numbers.
Passenger traffic for the month rose 45% year on year, but was down 99% against 2019, while capacity shrank 32.5% versus 2021 and was just 2% pre-pandemic levels.
Lam notes that on top of the travel ban to nine countries, Cathay had to contend with the growing wave of infections in Mainland China, particularly in Shanghai, which forced it to trim capacity.
"In March, we also had to trim down our passenger flight capacity to the Chinese Mainland, and Shanghai in particular, in response to the city's tightened anti-pandemic measures.
As for cargo, Cathay carried 97,166t of cargo in March, up 17% year on year, but down about 48% when compared to 2019.
"With reduced long-haul operations, we have used the available aircraft and crew to add capacity to our regional lanes, in particular Northeast Asia and South Asia, where demand has been relatively robust," says Lam.