A new Canadian ultra-low-cost carrier called Lynx Air is set to launch flight operations the first quarter of 2022.
The Calgary-headquartered company was formerly called Enerjet, which offered charter flights servicing Canada's oil and gas industry.
The carrier says on 16 November that it changed its name, appointed its management team and plans to announce its schedule "soon". It's looking to replicate in Canada the low-cost model "which has revolutionized air travel across Europe and the United States, offering low fares, flexibility and choice".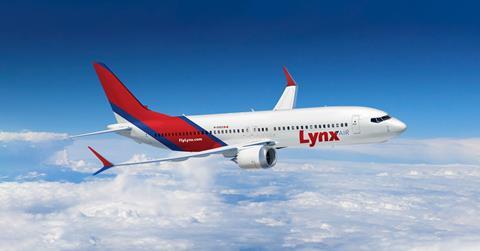 "We believe that there are people in Canada who can't afford to travel or travel as much as they would like to, and what we want to do is to make travel accessible to everyone in Canada," chief executive Merren McArthur tells FlightGlobal on 17 November.
"At the same time, we want to redefine what Canadians perceive as an ultra-low-cost carrier because we don't believe that low fares should mean low quality," she adds, preferring to use the term "ultra-affordable".
Lynx will launch flight operations with three Boeing 737 Max 8, which McArthur says will be delivered in the first quarter of 2022. The aircraft will have a single class configuration with 189 seats.
The carrier hopes to grow to 46 jets in the next seven years.
To begin with, Lynx Air plans a domestic network, says McArthur. She does not reveal routes or destinations, as the company is still "having discussions with airports across Canada".
"Our initial focus will be on domestic Canada, that's where we see the biggest opportunity and considering the current uncertainty around borders, that also enables us to keep our model nice and simple," she says.
"As we as we develop then, towards the end of 2022, we will probably evolve into flying transborder into the United States. And ultimately we're going to look at international opportunities" that can be supported by the Max's range capabilities.
The airline has a website with basic information, and she adds the booking site will "go live in a few weeks' time". She promises a "transparent pricing structure" and "a la carte" menu of services a customer can choose from.
McArthur says the airline's goal is not to grab market share from rival carriers. Rather, the company wants to tap into the still pent-up demand following the almost-two-year coronavirus crisis that kept travellers at home.
Strict federal and provincial restrictions on movement as well as entry requirements that had been in place for 18 months during the height of the covid-19 global health crisis made both domestic and international travel difficult and complicated. In the past weeks, Canada has relaxed restrictions for both residents and visitors, and re-opened its borders to international travellers who are fully vaccinated.
"We believe we can offer more low fares and great service and stimulate more demand," she says. "So our focus is actually on the customer, and to target customers in the areas where we believe there is a limited availability [of] low fares [that are] probably preventing people from flying."
While the company is launching from the western city of Calgary – home to WestJet, the country's second largest carrier after Montreal-based Air Canada – it is not married to that location, McArthur says.
"We won't necessarily be solely based in Calgary, but we are starting there when we've only got a few aircraft. That'll be our initial base. Going forward, we'll fly where the opportunities are," she says.
The airline's website links to a careers page where it is advertising jobs across operations, flight crew and back office roles, all based in Calgary.
MANAGEMENT
McArthur, who arrived at Lynx in June, previously spent almost 12 years at Virgin Australia in various management roles and as chief executive of ultra-low-cost subsidiary Tigerair Australia. According to her LinkedIn profile, she left the group in November 2019 when Tigerair was integrated into Virgin Australia.
She is joined in top management by chief commercial officer Vijay Bathija, who came from Etihad Airways and also spent almost a decade at Air Canada subsidiary Air Canada Rouge earlier in his career. Lynx's chief operations officer Tim Morgan founded Enerjet in 2007, and was also a co-founder of WestJet.
Since 2018, Indigo Partners, the private equity firm that holds stakes in several low-cost airlines from the USA to Hungary, had also had a stake in Enerjet but McArthur would not confirm it was still an investor in the new Lynx Air.
"We do have substantial financial backing and… investors with aviation expertise," she says.
Another Canadian start-up carrier, Vancouver-headquartered Canada Jetlines, has been trying to raise funding to launch an ultra-low-cost carrier for years, without success.
On its website, Jetlines says it is "getting ready to serve the flying public" and to "expect news in early 2022".