Nok Air has cleared a major hurdle in its business restructuring process, after Thailand's Central Bankruptcy Court approved its rehabilitation plan.
The move, which allows the carrier to execute plans to turn its business around, comes more than a month after the airline's creditors accepted its rehabilitation plan, following a meeting held on 4 August.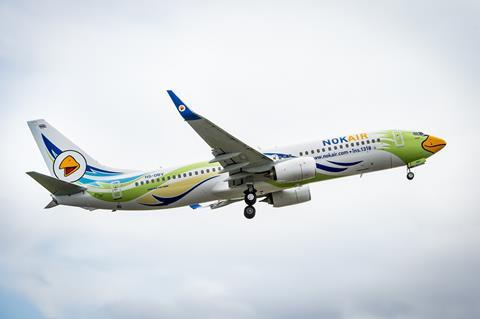 The Central Bankruptcy Court also appointed four rehabilitation plan administrators, including airline chief Wutthiphum Jurangkool, directors Tai Chong Yih and Chavalit Uttasart as well as independent director Prinya Waiwatana.
The four, whose names were proposed in the rehabilitation plan, have been authorised by the court to "operate the business, manage the company's assets and implement the plan", says Nok.
The embattled low-cost carrier filed for business rehabilitation in late-July 2020, after acknowledging the "adverse operating environment" during the coronavirus pandemic.
Subsequently, the airline submitted its rehabilitation plan to the court in May, after securing two one-month extensions allowable.
Nok posted a Bt7.4 billion ($218 million) operating loss for the year ended 31 December 2020, widening the Bt3.1 billion full-year loss it reported in 2019. It was also found to have liabilities exceeding assets by Bt16.2 billion, and a capital deficiency to the tune of just over Bt8 billion.