Nok Air has issued a request for proposals for the operating lease of up to 26 aircraft to be delivered between this year and 2026, according to a document seen by Cirium dated 21 January.
The Thai carrier invites "reputed" lessors to submit proposals for up to 19 Boeing 737-800s, four Bombardier Q400 or ATR 600 turboprops, two Boeing widebodies with approximately 300 seats, and one 737-800 freighter.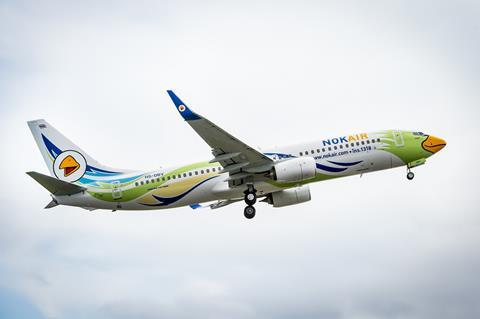 As a "broad timeline", Nok has set 12 February as the date for receipt of the proposals, after which it will conduct evaluation and have interactions with interested bidders for 17 days before selecting winning bids and signing letters of intent on 28 February.
Like its larger compatriot Thai Airways, Nok Air is undergoing a business rehabilitation process and is due to submit its rehabilitation plan to the Central Bankruptcy Court on 15 March. It received approval from the same court in early November to enter business rehabilitation.
A person close to the process tells Cirium that there is a stay on creditor claims, including on lease rental payments to lessors, until March, although the airline could extend this "if they need to".
He adds that the airline has a "clear focus" on preparing what the airline's new business structure will be like.
"They are having dialogue with the creditors and engaging with the OEMs. I think Grant Thornton [which is helping Nok prepare its plan] have a clear business idea in their mind. Like Houlihan Lokey [which is acting on Malaysia Airlines' restructuring], they are professionals – this is what they do."
One lessor who received the RFP described it as a "very open" request, given the number of aircraft types involved. The person's company responded and expressed tentative interest.
"[However], in this case, unless we do some severe due diligence I don't think we can do anything with Nok," the person said.
A second lessor who received the RFP said: "They want to see what's available in the market and use alternative proposals to pressure the existing lessors."
Cirium fleets data show that Nok Air now leases 21 aircraft, including eight Q400s and 13 737-800s from eight different lessors.