Norse Atlantic Airways plans to have all of its incoming Boeing 787s in service by summer 2022, the Scandinavian start-up said today as it unveiled its longship-inspired livery.
Sufficient demand for the airline to launch its proposed Europe-US services will have returned by the end of the first quarter of 2022 or early in the second three months of the year, the carrier predicts.
Such a launch timeline would put Norse Atlantic on course to be flying 15 787s by mid-2022, it says, amid an attempt to fill the low-cost long-haul gap in the market created by Norwegian's retrenchment.
"We strongly believe that there is a need for a new and innovative airline serving the low-cost intercontinental market with modern, more environmentally friendly and fuel-efficient aircraft as the world gradually reopens," says Norse Atlantic chief executive Bjorn Tore Larsen. "Our plans are on track and operations will commence when travel restrictions are lifted and demand for transatlantic travel is back."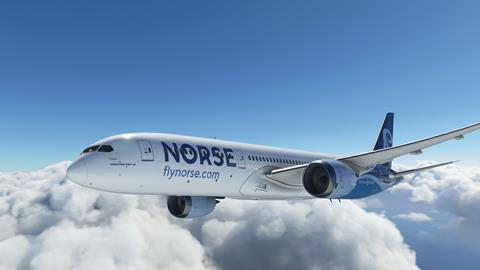 Mindful of the years-long process that Norwegian went through to secure its foreign air carrier permit in the USA, Norse Atlantic notes that it has entered into an agreement with the largest US flight attendants' union, AFA, and is "in dialogue" with unions in other countries. All of its employees will be on permanent contracts, the carrier adds.
Norse Atlantic says it has applied for a Norwegian AOC and is in the process of applying for a UK one.
The carrier's livery and branding elements recall "Norsemen who travelled and explored the world with their state-of-the-art longships", it explains.
The start-up said earlier in August that it would lease six more Boeing 787-9s from the end of this year, which would take its fleet of 787s to 15.