Start-up carrier Norse Atlantic Airways has pushed back the launch of ticket sales to April citing uncertainties stemming from the Ukraine conflict, though has now secured slots at London Gatwick airport.
Norse had previously expected to launch ticket sales later this month ahead of beginning flights during the second quarter. Citing increased fuel prices and travel demand uncertainties in the market following the Russian invasion of Ukraine, it now says ticket sales will begin in April and the first flight will be in June.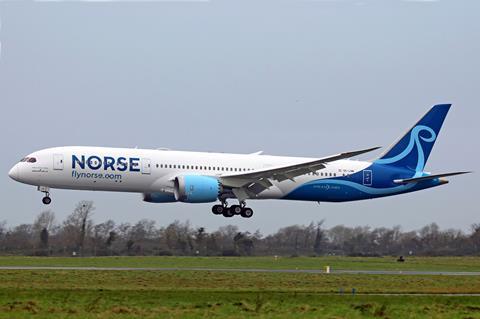 "The tragedy unfolding in Ukraine creates uncertainties within international air transport that we take seriously," says Norse Atlantic's chief executive Bjorn Tore Larsen.
"We are in a unique position as we have not yet started flying, which gives us the advantage to enter the market cautiously in line with demand and quickly adapt to unforeseen events. A gradual approach where ramp-up is exclusively driven by demand, will enable us to preserve our strong, debt-free balance sheet and cost bases."
Norse is aiming to start flights in June from Norway to US destinations, having secured US regulatory approval in January. It plans to add other European destinations, citing Paris and London, as examples "as soon as the market situation allows".
For the UK, Norse confirms it has secured slots at London Gatwick airport. "It gives us access to a very attractive market," says Larsen.
Long-haul, low-cost pioneer Norwegian operated a number of transatlantic routes from the London airport before dropping long-haul operations as part of a wider financial restructuring.
Norse is planning to operate 15 Boeing 787s on its long-haul network. It received its first Dreamliner in December and has now taken delivery of nine examples. It says the remaining six 787s will be delivered in the coming months.