Norway has further extended the terms of a state-backed loan guarantee scheme it has granted its carriers.
While Norway's government earlier this month rejected Norwegian's request for more state aid – a move the struggling carrier cited as a factor when two of its Irish units filed for financial protection in Ireland – it has today extended by a year the repayment date for loans taken under its aviation guarantee scheme.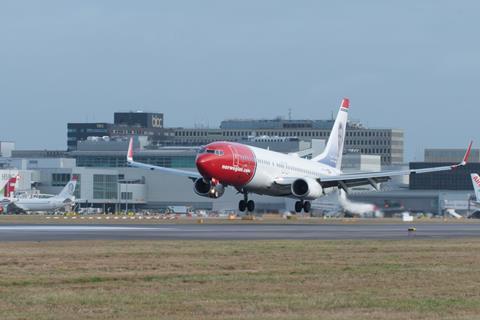 The term of the loan guarantees now runs for three years, rather than two. Access to the loan guarantees has also been extended by six months until the end of June 2021. The government had in September extended the scheme until 31 December 2020.
Norwegian trade and industry minister Iselin Nybo says that as the crisis has become more protracted than expected when the scheme was created, it is "reasonable" to give airlines more time to recover before they have to repay the loans. "Extended maturity will help ease the financial pressure on the companies," Nybo says.
The Norwegian government says the state's extraordinary contribution to aviation in Norway so far this year totals NKr14.8 billion ($2 billion). That includes the guarantee scheme of up to NKr6 billion – half of which was directed at struggling Norwegian.
Norwegian on 18 November initiated a formal financial restructuring for its Norwegian Air International subsidiary and aircraft leasing unit Arctic Aviation Assets under an Irish examinership process – under which parent Norwegian Air Shuttle will also get protection through the process as a related party.