Norwegian has "successfully emerged" from bankruptcy protection with a much slimmed down fleet of 51 aircraft, all of which will be operated on a by-the-hour basis until the first quarter of next year, the airline has disclosed.
The Scandinavian low-cost carrier entered the examinership process in Ireland in November and simultaneously filed for financial restructuring under Norwegian law the following month.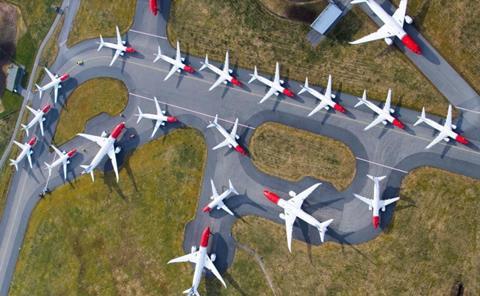 Norwegian said earlier this month that it had raised the NKr6 billion ($721.6 million) in fresh capital required to exit its restructuring process on its targeted date of 26 May 2021.
While Norwegian's reconstruction proposal will not formally take effect until "shortly after" the close of trading on the Oslo Stock Exchange later today, the airline says in a 26 May statement that "the company and the examinership companies have successfully emerged from the examinership and the reconstruction, completed the capital raise, implemented the restructuring proposal and concluded the restructuring".
During the restructuring process, Norwegian says it has slashed its total debt by NKr63-65 billion, compared with the end of 2019, exited the long-haul market, terminated NKr85 billion worth of aircraft orders with Airbus and Boeing, and reduced its fleet from 156 aircraft to 51.
The airline says it has signed "competitive" agreements for four owned and 44 leased aircraft, which it plans to operate on a short-haul network primarily in Norway and the Nordic region, or from the Nordics to continental Europe. An additional three aircraft are "under documentation to be retained and leased", adds Norwegian.
All 51 aircraft will be operated under by-the hour agreements until the first quarter of 2022. This, says the carrier, will "significantly" increase flexibility and "limit lease payments in the event of a prolonged period with challenging markets, due to the Covid-19 pandemic".
Norwegian's total liabilities on completion of the restructuring proposal will be about NKr16-18 billion, of which NKr5.8-6.3 billion is aircraft-related debt. The airline estimates that its cash balance will be approximately NKr7 billion.