Norwegian has had its plan for financial reconstruction approved by a court in Oslo, opening the door for the carrier to begin raising fresh capital.
It follows a similar ruling by the Irish High Court in March, as Norwegian has sought the permission of creditors and shareholders to remodel its business.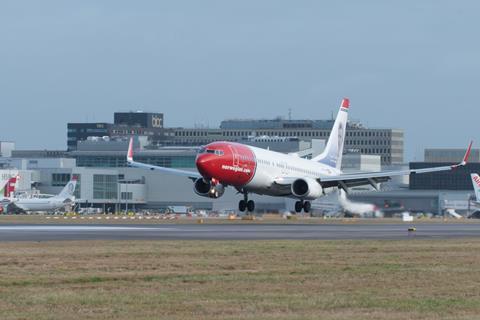 The company proposed that unsecured creditors be entitled to cash and dividends totalling around 5%, which is likely to be converted to stock representing around 25% of the company's share capital.
The rulings in both Ireland and Norway will become final when the planned equity has been obtained, something that airline expects to happen in May.
"We are very pleased with this important positive decision by the court. Once we have passed these two biggest legal milestones we can look forward to continuing the work of raising new equity," states Jacob Schram, Norwegian's chief executive.
"I stand very proud of the achievements that Norwegian has accomplished throughout this period and I am grateful to work alongside so many colleagues that have shown such unwavering commitment and determination for us to succeed. At the same time, I wish to recognise the crucial support that we have received which has enabled us to continue our business."
Should Norwegian secure the funds to allow it to continue trading, it will face heightened competition in its home country.
Start-up carrier Flyr plans to begin flights in late June, operating as a domestic and European carrier, while new company Norse Atlantic Airways, founded by Norwegian's former executive team, intends to step into the void left by the closure of its long-haul network.
Over the last year Wizz Air has also begun operating domestic flights within Norway.