Norwegian expects to convert more than NKr10 billion ($966 million) in debt to equity after reaching agreement with more lessors and bondholders, clearing the path to unlocking crucial further state aid.
The Scandinavian budget carrier has warned that it will run out of cash by the middle of this month if it does not secure the remainder of its NKr3 billion state aid package. In order to access the funds, the airline must satisfy a number of conditions which include cutting its debt-to-equity ratio.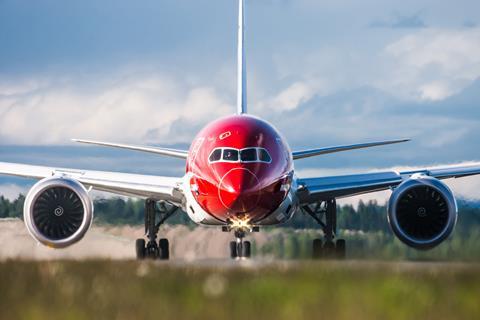 Talks continued with bondholders after if failed to secure the required majority support for its proposal following a 30 April vote.
Yesterday Norwegian announced that following the talks a fresh proposal received "robust support" from the bondholders across all the four bond issues with combined support of 76% of the votes.
The carrier has this morning announced increased support from lessors for a minimum conversion to equity of $730 million - higher than the $550 million announced on 1 May. It notes the conversion is supported by a significant number of lessors and discussions continue with others over possible further conversion of debt to equity.
"With the significant contributions from lessors and bondholders, the company expects to convert more than Nkr10 billion in debt to equity," Norwegian says. "With this, the company expects to significantly outperform the 8% equity ratio requirement in the government state aid package."
The company adds it expects shareholders will approve a public offering of up to NKr400 million in new equity and that it has received commitments from bondholders to subscribe "a meaningful amount" in the offering.
"With the conversion of more than Nkr10 billion from debt to equity now, a successfully completion of the public offering and significant concessions on future lease costs in the range of $200 million that will additionally be converted into equity, the company has laid a solid foundation for New Norwegian and a strong return to the skies once the Covid-19 situation improves," the airline says.
Norwegian will today hold an extraordinary general meeting to approve the debt conversion and share issue.